'Team Coram 2015' joined over 30,000 other runners at the weekend to take on the London marathon, helping the city's first children's charity create better chances for vulnerable young people.
First over the finish line for Coram were Richard Halton and Paul Search, grabbing victory with the time 3 hours 28 minutes and collectively raising an amazing £6600.38.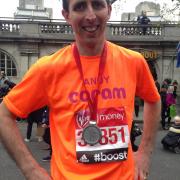 Andy Brown, pictured right, has been supporting Coram for over ten years following the discovery that his great great grandfather was bought up in the Foundling Hospital:
"Thanks for the opportunity; it was amazing experience that I couldn't have had without Coram's support.
I finished in 4 hours 21 minutes, 19,000 out of 38,000 so bang on average! My legs are doing ok, but I'm more like a 90 year old going down the stairs."
Double marathon runner Dan Willoughby tackled two gruelling 26 mile courses in two weeks for Coram, finishing Brighton in 3 hours 55 minutes and London in 4 hours 3 minutes.
Dan smashed his fundraising target raising £3886.25 for the charity that enabled his life-long friends to become a family through Coram's adoption services:
"As I've grown to know my friends' adopted son Matthew, I wanted to give back to the charity that gave my friends a family and found a loving mum and dad for such a great little boy."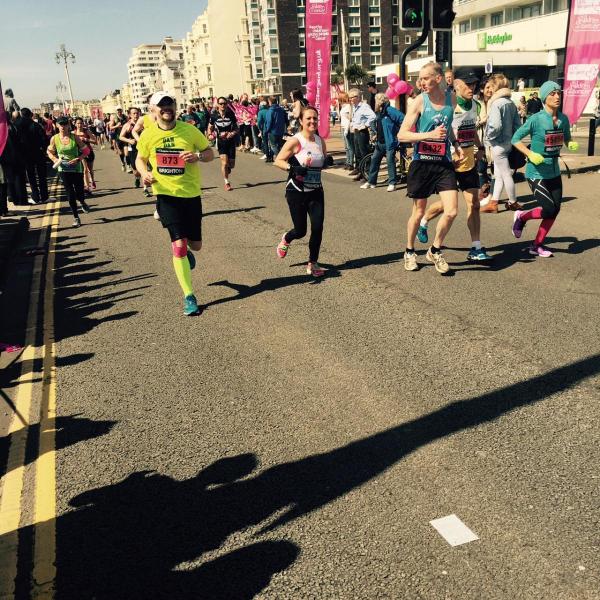 Margaret McCulloch, Coram's Group Head of Fundraising, said the runners should be proud of how they have helped improve the lives of vulnerable young people all over England:
"Team Coram, take a bow! What an astonishing fundraising effort.
"The atmosphere on marathon day was incredible; I was so proud watching all of you whizz past while your families, Coram colleagues and supporters, shouted and cheered for you all at the top of our voices. Thank you all, it is so rewarding that you are working alongside us, in any way you can, to create better chances for the UK's most vulnerable children.
"The staggering sum of money raised by you and by your supporters means that we can continue our pioneering work to help even more children and families."
Heidi Bjornsgaard, a teacher at Ashlyns School, also ran for Coram. Ashlyns School became the second site of the Foundling Hospital (as Coram was originally known) in 1935, which was the first purpose built home in the eighteenth century for children whose mothers were unable to care for them:
"I loved every minute of it! I don't think the smile was off my face all the way round. I can't wait to get my running shoes on again soon."
First time marathon runner Andrew Ryde was supporting Coram. Andrew became a proud parent himself through adopting with the charity:
"In 2012 my wife and I adopted our child through Coram. Our social worker was an absolute rock throughout the long and testing roads leading to adoption. Therefore, when I got a ballot place in the marathon and my training was underway, I contacted Coram as my preferred choice to acknowledge the amazing and life changing work they do."
In preparing for adoption, Andrew also discovered historical ties with the Foundling Hospital, making him even more determined to fundraise for Coram: "During the adoption process I discovered that my Great Grandfather was himself a Coram foundling in the late 1800's; it felt like we had completed the circle and that this was clearly meant to be."
Team Coram 2015, congratulations to you all!
*** Sebastian Allan, Chris Ball, Heidi Bjornsgaard, Mark Bowden, Izzy Broughton, Andrew Brown, James Burrows, David Coleman, Phillip Craddock, Benjamin Crisford, Jeremy Dibb, Victoria Fairclough, William Godfrey, Richard Halton, Russell Jaggers, Sharon Jenman, Kasra Keshmiri, Victoria Lewis, Tierney Maude, Luke Milner, Kevin Murphy, Andrew Ryde, Paul Search, Lorna Thompson, Dan Willoughby ***
If you're feeling inspired, we have guaranteed places so why not run the Virgin London Marathon 2016 for Coram and help some of the country's most vulnerable children?
Or, if you find out you are lucky enough to have won a ballot place, run for us and support the UK's first children's charity.
To find out more about running the London Marathon for Coram in 2016, contact our Corporate team on 020 7520 0339 or challengeyourself@coram.org.uk.
Follow @Coram on Twitter for updates about the latest fundraising events and charity news.
Useful Links
Interested in forming a corporate partnership with Coram?