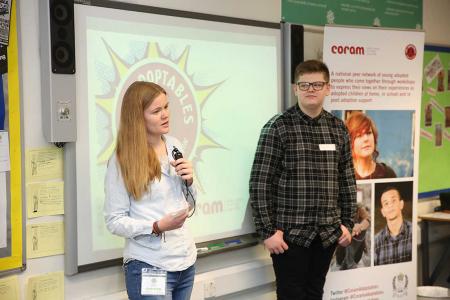 Funded by The Queen's Trust and the Department For Education, based on comprehensive research, the Adoptables Toolkit includes films and lesson plans for both Key Stage 2 and Key Stage 3 pupils to help them understand what being adopted is like, how families can come in different shapes and sizes, and how to consider the feelings and perspectives of other young people with different types of families. Following a successful pilot at a number of primary and secondary schools, including the Elmgreen School in South London, the Toolkit is now available for schools across the country.
The Adoptables Toolkit has been prepared by two extremely well-positioned organisations. Coram Life Education is the UK's largest independent provider of wellbeing and Personal, Social, Health and Economic education in primary schools, and The Adoptables is a peer network of young adopted people aged 13-25 years who speak out about their experiences as adopted young people to help improve awareness surrounding adoption.
The lessons are interactive, including short films, discussions and a question and answer session, and at Key Stage 3 this is extended to include the option for a classroom visit from an Adoptables Ambassador. Teachers benefit from a comprehensive and informative pack that includes details on how and why children are adopted, potentially sensitive situations and subjects, the Pupil Premium and further reading and resources.
The Toolkit has had resoundingly positive feedback from its pilot, with pupils and teachers alike.The evaluations showing that 95% of pupils who had participated in a session found it either "good" or "very good" and 100% of teachers strongly agreed that the pupils engaged well with the session and the content was appropriate.
Schools can register and download the full toolkit on the Coram Life Education website,, with the option to get in touch and arrange an Adoptables Ambassador visit for Key Stage 3 pupils.