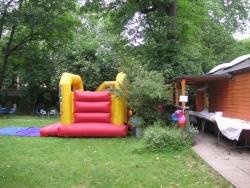 Children and their adoptive families enjoyed food, games and entertainment at annual get-togethers organised by Coram's London and Cambridgeshire adoption teams.
Over 150 people attended the London picnic at Collingham Gardens, which featured two bouncy castles, a children's entertainer and an orchestra. Children enjoyed art, drawing and dressing up, and a 'bring and share' lunch with other families.
At Coram Adopt Anglia, children enjoyed an adventure playground, outdoor games and went pond dipping with a park ranger, observing local wildlife. Families drank refreshments and ate homemade cakes baked by staff.
Alice Noon from Coram's London Adoption Team said of the picnics: "It's a great opportunity for people to meet up. Being an adoptive parent is incredibly rewarding but, as all parents find, it can sometimes be hard work. To be in a group of people where there's a level playing field is very important."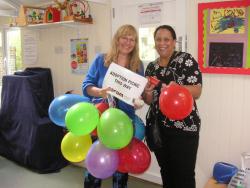 The best thing, Alice said, is "seeing all the children who we've placed, who were maybe a bit unsettled, come with their new families."
Colleague Angela Warren added: "Families use the picnic as a benchmark. Their children are nervous at the first one, then grow in confidence over the years until they become teenagers and outgrow the picnic!"
In addition to careful preparation and pre-adoption support, Coram offers a lifetime of post-adoption support for its adoptive families. This includes parenting classes, creative therapies, help with accessing clinical and educational services and support groups for children and young people.
To learn more about Coram's commitment to post-adoption support, see links below.
Coram's East Midlands adoption service is holding its very own family get-together in Calke on 13 August. For more information please contact Lorraine Wallis.
Useful Links