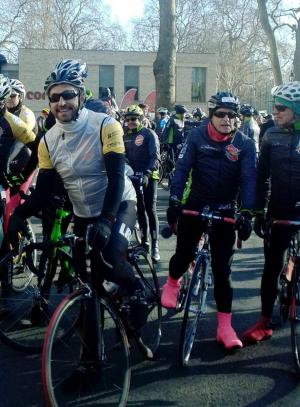 The aim of this year's challenge, which is sponsored by Broadgate Estates, is to raise more than £250,000 for Coram and four smaller charities.
Coram Chief Executive, Carol Homden, said as the riders set of from Coram's campus in London, "Thanks to the extraordinary commitment of everyone involved we will be able to improve the lives of many, many more vulnerable children. We wish the riders the very best of luck for this event."
Pedal Power
Cycling shifts of 12 hours will take the men and women on a scenic route including Calais, Dijon, and Aix-en-Provence before finally arriving in Cannes in time for MIPIM, the world's premier exhibition event for the property sector.
First-day excitement
"Leaving from Coram today was a brilliant start to this year's event," said Phil Coffey of Coffey Architects. "It was great to have a send off not only from the many supporters that came out to cheer us off but also from Coram's Chief Executive Carol Homden, to remind us why we're undertaking this crazy challenge."
Charmaine Rees of Derwent, London said, "I'm really looking forward to it. It's great to see so many riders ready to take on the challenge in aid of Coram."
Geoff Heppell from L+M (Leadership and Management) said, "There's always that moment when you think, 'have I done enough?'. But it's a glorious day and this is a fantastic event, and once we get going it'll be great."
Building on success
This is the fouth year in a long-term relationship between Coram and CYCLE TO MIPIM. Money is raised through a combination of personal sponsorship of riders and corporate support.
Two thirds will be donated to Coram and used to change the lives of children through Coram's Adoption service, providing loving, stable homes for the UK's most vulnerable children.
Click on the menu to the left and find out how Coram helped vulnerable siblings find a home.
For more information about CYCLE TO MIPIM contact martin.cooper@coram.org.uk.
Useful Links
The road is a harsh mistress – read our rider blog
CYCLE TO MIPIM facts and figures
Find out more about CYCLE TO's relationship with Coram