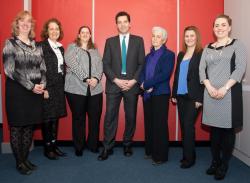 Children's Minister Edward Timpson with staff from Coram Children's Legal Centre and Coram's Dr Carol Homden (far left)
Edward Timpson MP Minister for Children was welcomed to Coram Children's Legal Centre, which provides free legal advice and representation to children and families across the country, to open its new offices in North Station Road, Colchester.
During his visit, Mr Timpson met staff from the Child Law Advice Line who provide telephone and digital advice on child, family and education law to more than 20,000 callers. Supported by the Department for Education, the service provides legal advice to support children involved in divorce and separation; child contact, children at risk of going into care, in care and leaving care, and all aspects of state-funded education for children; bullying, discrimination and special education provision. Mr Timpson heard how the service provides a safety net for many vulnerable and disadvantaged children and families, with more than 40% of those seeking advice having a household income of less than £15,000, and 66% on an income of less than £25,000.
The Minister also met staff at the charity's Legal Practice Unit and heard how lawyers provide child and education law advice, represent the cases of children in court and help to ensure that public authorities meet their duties and obligations towards children and young people. He heard about the trends in legal aid and discussed how the rights of children in need are ensured.
Edward Timpson, Minister for Children and Families, said: "As a former family law barrister, I know how important it is that children, young people and their families get access to comprehensive legal advice to ensure their rights are upheld, regardless of their financial circumstances. That is why it's great to see at first hand the invaluable work done here at Coram Children's Legal Centre."
Dr Carol Homden, Chief Executive of Coram, said: "There are more children in society than ever before and as the world around them changes, we must anticipate their needs and continue to be a reliable source of legal information and advice. At our new base in the heart of Colchester, we want to ensure that even more children and young people in need have the ability to be heard, represented and are able to access their legal entitlements."
During the visit, Mr Timpson also learned more about how children and families, such as the family quoted below, benefit from the charity's work.
"My daughter's new school has been a breath of fresh air, and she wouldn't have got there without all your help. I am very grateful for the service I received and I hope the funding is there to help more families" – Mother of a child badly bullied at school
Useful links