Cathy, who is a single adopter, spoke to BBC Three Counties Radio about her nine year old son, who she welcomed in to her home four years ago. She expressed how she felt adopting an older child was the right thing to do for her and how she felt hugely supported by Coram: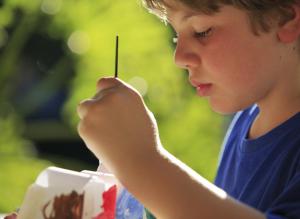 "An older child brings so many beautiful things. They have a much deeper understanding of what's happened to them and I was able to start a life with him that was open and honest."
Listen to Cathy speak positively about her experiences with Coram here.
Cathy also praised the guidance she received from Coram, and said that she still gets in contact when she needs support and advice as she feels very trusting of the service:
"Dealing with Coram helped me understand what an older child needs. It's enriched my life. My relationship with Coram is really, really strong. Any conversations I need to share, any difficult situations, I go back to Coram."
Adoption in North London and Hertfordshire
Coram is a children's charity and leading Voluntary Adoption Agency, which has recently extended its adoption services across North London and Hertfordshire to help place more children with loving parents.
Coram Adoption (North London) is the result of the merger between the adoption team from the charity Norwood with Coram's adoption service, and has been created to help find more adoptive families for the growing number of children in care.
The team are now holding regular information meetings at their new base in Finchley.
There are a series of short films about adopting with Coram on our YouTube channel in which adopters talk first hand about the support and quality of service they've received from Coram.
Coram Adoption North London works with culturally sensitivity to all the communities it serves and welcomes prospective adopters from all cultural backgrounds, including Jewish families.
Please contact Coram Adoption North London on 020 8371 1913 or email northlondonadoption@coram.org.uk
Useful links:
Listen to Cathy on BBC Three Counties Radio