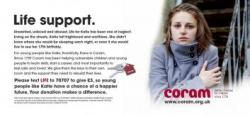 The Life Support campaign is part of our work to raise awareness and funds to provide vital support to young people like Katie.
Unwanted, unloved and abused. Life for Katie was one of neglect. Living on the streets, she felt frightened and worthless. She didn't know where she would be sleeping each night, or even if she would live to see her 17th birthday.
Thankfully, for young people like Katie, Coram is here. Since 1739 Coram we've been helping vulnerable children and young people to learn skills, start a career, and most importantly to feel safe and loved. We give them the keys to their own room and the support they need to rebuild their lives.
But you don't need to be on a train to make a difference to young people's lives. Wherever you are, you can help by texting LIFE to 70707, to give £3 so young people like Katie have a chance of a happier future. You can also donate online here. Your donation makes a difference.
Useful Links