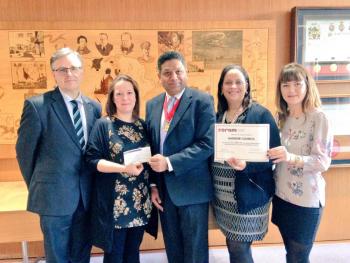 Councillor Ajay Maru selected Coram as his charity of the year during his Mayoral term last year. The money was raised from a number of different activities, including the Tonic Choir concert, the New Year's Day Parade and The Mayoress' Ball.
This coincides with the 10 year anniversary of Coram and Harrow's successful adoption partnership. It will be used to directly benefit the Coram-Harrow partnership, funding post-adoption support for four families and enabling twelve families to be prepared for their adoption journey, providing loving, stable homes for vulnerable children.
The Coram-Harrow partnership was the first of its kind, and has helped find loving families for children in need of adoption in the borough. It also helped pave the way for national discussions on joint working to improve outcomes for children.
For more information on the Coram-Harrow partnership, click here: www.coram.org.uk/our-local-authority-partnerships/coram-harrow-partnership
To find out more about how your local authority could work with Coram, read about our Coram-i service here: http://www.coram.org.uk/coram-i