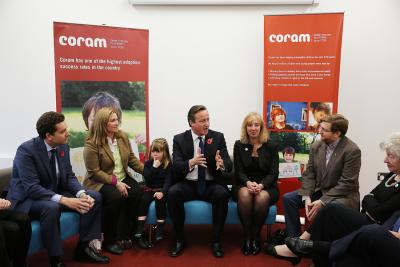 David Cameron met parents who've adopted through Coram, hearing about their experiences of adoption first-hand and of the importance of being matched with their children at the earliest possbile stage.
Government figures show that around 10% of adopted children are placed with families early, but Mr Cameron wants these numbers to double as soon as possible as part of a drive to increase adoptions. Nearly half of councils – 68 out of 152 – had no children placed with their adoptive families early, according to the most recent figures.
Coram has long been tackling this issue, pioneering a specialist scheme which places babies and young children in care with potential adopters earlier. Known as concurrent planning, it offers increased stability for children by preparing and approving their foster carers as potential adopters. Coram now works with over a dozen councils, rolling the scheme out nationally.
Today's move comes after plans were unveiled in the Education and Adoption Bill to merge council adoption agencies, so young people are matched with parents more quickly.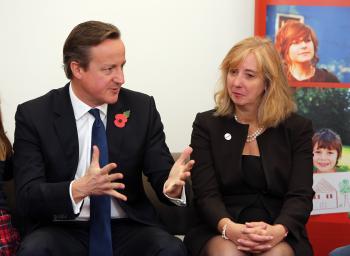 Prime Minister David Cameron said:
"It is a tragedy that there are still too many children waiting to be placed with a loving family – we have made real progress but it remains a problem. As Prime Minister I want to make sure that we do everything we can so children are placed in a loving home as soon as possible, giving them the best chance for a happy and fulfilled life."
Dr Carol Homden, Chief Executive of Coram children's charity, said:
"For vulnerable children who have been taken into care, there is nothing more beneficial than being placed as early as possible with a loving family.
It is well-evidenced that children thrive when they can make a secure bond with people who love them and are willing to commit to them.
Concurrent Planning is a fair and transparent process, which has given hundreds of young children the best possible start in life, by planning for their short and long-term needs. We must ensure that the welfare of looked-after children is valued highest when making decisions about their futures."
The reforms outlined include:
Early placements reporting by local councils: The number of councils currently using early placement varies across the country, so in a move to encourage more to make use of these schemes, councils will now have to reveal how many children they place with adoptive families before the full process is complete.
Special Guardianship Orders: The Government will change regulations so councils have to carry out more thorough assessments to make sure children are in the right home and relatives they are placed with can look after the child right up until they are 18. The evidence shows that Special Guardianship Orders are more likely to break down where the child is being sent to live with a relative they have never met, or do not have a strong bond with.
Changes to adoption law: The Government is actively considering changes to adoption law, to make sure decisions are being made in the child's best interests. Ministers will look at proposals so that where adoption is the right thing for children, social workers and courts pursue this. Over the last two years, the number of decisions for adoption being made by the courts has fallen by up to 50 per cent.
Regional Adoption Agencies under the Education and Adoption Bill: The Government will also create new Regional Adoption Agencies to make it easier to match adopters with children needing homes – and already 140 out of 150 councils have applied to merge and streamline their services. The government is to use new legislative powers to intervene to ensure that all councils have plans to join regional agencies by 2017 – so that the whole system is in regional agencies by 2020. In most regions, children will have immediate access to up to 10 times more prospective adopters.
Useful links
Read about Coram's concurrent planning on dedicated adoption site