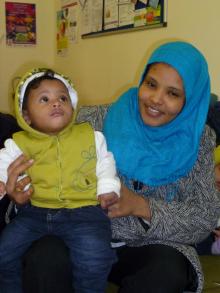 Our Parents' Centre is closing for the half-term holiday.
The Centre, based at our London headquarters in the borough of Camden, offers drop-in and outreach services aimed at making all parents from the local authority area feel welcome.
It will be closed from Monday 17 February 2014 and re-open on Monday 24 February 2014.
Most of our drop-ins are held at our Collingham Gardens Studio (access via our Coram Charity Campus, 41 Brunswick Square, London, WC1N 1AZ) except our Tuesday Bangladeshi drop-ins, which are being held at the Thomas Coram Centre until further notice.
Visit our Parents' Centre section to see our drop-in timetable and find out more about the centre.
Useful links