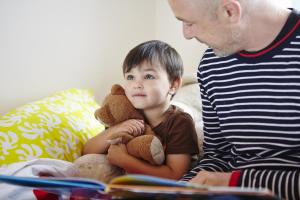 The first stage of findings in a unique research project into the quality of life story work has revealed a huge variance in the quality of work done to support children leaving the care system and being adopted, with most receiving inconsistent or inadequate services.
The story was covered on the consumer affairs programme, You and Yours on BBC Radio 4 on Wednesday 5 August, featurning Coram's Director of Operations, Renuka Jeyarajah-Dent. Click here to listen to the interview.
The preliminary findings, produced by Voluntary Adoption Agency, Coram, in conjunction with The Hadley Centre at Bristol University conclude that life story work is not being prioritised by adoption professionals and that there is a vast variance in the quality of life story books, which hold information about children's birth family, carers and life experiences.
Life Story work is the process of helping children separated from their birth families to remember and make sense of their early lives. Children who have been through the care system often experience changes in social workers, carers and home before being placed with an adopted family. Therefore this work, which usually includes making a Life Story Book, allows adopted children and young people to access to their heritage and past that may otherwise be missing, lost or forgotten.*
Most Life Story Books are either 'excellent' or 'terrible'
From a national study of 40*1 parents with 57 adopted children, 1/3 of adopters rated their children's life storybooks as 'terrible', while around 40% said they were 'good' or 'excellent'.
Where experiences were positive, children had books that were well written, and presented with care and consideration of the material included. Parents found these books invaluable in their discussions with their children about their birth and care histories, and felt they facilitated a valued connection to their birth family.
One parent commented:
"It helped both [children] feel whole, in our opinion, because they had photos of birth family and of them as toddlers – and some context to what came next."
However, many of the books were of poor quality, and often had to be 'redone' by their adoptive parents. These parents reported that the story was often not child-centred and lacked narrative and explanation.
Many also found that the level of detail in the books was inappropriate: with either too much emphasis on one part of the story, too little detail or too much unnecessary detail. This often linked to the age-appropriateness of the material and a frustration that the books could not be updated as their children grown up.
Another parent said:
I can never show my daughter hers because there is stuff in there that I don't ever what her to see … even when she reaches 18- I don't know if she will be able to handle it (FG3).
Why the past matters for children in care
Coram's Director of Operations, Renuka Jeyarajah-Dent said that Life Story work helps children separated from their birth families remember and make sense of their lives:
"Adopted children cannot start with a blank slate. Their past is significant and should be valued.
"Understanding life history becomes particularly important when young people reach adolescence and develop and define their sense of self.
"Parents and children need help"
"The clear message from our research is that crucial information about children's lives is often incorrect or inappropriate and that parents need more help in explaining their children's pasts to them.
"A third of the adopters we spoke to found their child's Life Story Book to be of no help at all in taking their children's stories in to the future, with content being age inappropriate and not explaining what had happened to them in care.
We also found that a third of parents aren't getting any support at all to use Life Story books with their children, meaning that an opportunity to honour the past and feel valued by their adoptive parents is being missed.
"We want to work with local authorities to help raise standards and share good practice to help give adopted children the best possible start in their new families."
National guidelines
In recent Ofsted inspections in England where adoption has been judged as 'requires improvement' or 'inadequate,' the insufficiencies in the provision of life story books were repeatedly highlighted.
The national minimum standards in adoption state that life story work should represent a realistic account of a child's circumstances. The value of having a dedicated Life Story Worker in the adoption team was also highlighted.
Coram's research draws on the experiences of adoptive parents from across the country, adopted children aged between seven and 27 and professionals working in adoption.
We are running life story training for professionals, if you would like to find out more information please contact coram-adoption-support@coram.org.uk
Useful Links
Discover more about life story work
Interested in adoption? Find out more
Find out how we work with local authorities to improve their adoption services
Learn about our Bournemouth adoption partnership success in the Guardian