The funding comes as part of the company's Building Better Futures initiative which aims to help disadvantaged young people.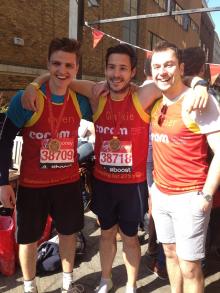 Balfour Beatty marathon runners
Balfour Beatty is Coram's largest single corporate supporter and has donated over £375,000 since 2010, impacting on the lives of over 40,000 children.
The funds will support Adoption, Creative Therapies and the charity's health and drug education programme for schools, Coram Life Education.
Margaret McCulloch, Coram's Interim Head of Fundraising said: "Balfour Beatty's support has enabled us to bring positive change into the lives of children across the spectrum of our services.
From the child in care awaiting a permanent, loving family, to the pupil managing the risks of drugs and alcohol, Coram reached 1,680 more children last year alone through this partnership.
We thank Balfour Beatty on their behalf, and look forward to changing many more lives as they continue to support our work."
Balfour Beatty has also been very successful in its employee fundraising events including CoramJam, a rock concert in January, and by entering 'Team Sole Destroyer', a group of four runners in the London Marathon in April.
Useful links:
More about forming a Corporate Partnership with Coram