In the interview below, created especially for National Adoption Week 2014, the family discuss their delight at being able to start their life together:
"Right from the start actually we wanted to adopt siblings[…]It was having a family straight away that we really liked the idea of, and it's great."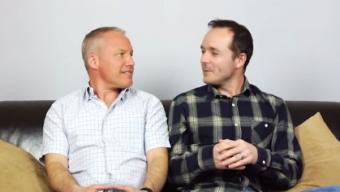 The two brothers also feature in the interview telling of their favourite games and why they enjoy each other's company:
"He likes football […] I like Football, Rugby, Tennis, Snakes and Ladders, Basketball."
Paul and Graham agree that there is a strong bond between the brothers, and how vital it was that they were able to be there for each other throughout the adoption process:
"It's great that the kids have got each other for support, for fun, for playing and for sharing their experiences."
Coram has been helping children find new parents for more than 40 years and is one of the largest voluntary adoption agencies in the UK.
Coram understands the challenges of children who have been in care and are highly experienced in helping new adoptive families adjust and enjoy their new lives. As a result we have a success rate of close to 100%, making us one of the most effective adoption agencies in the UK.
Useful links
Find out more about adopting with Coram
Watch Paul and Graham in a two-minute video