For over 45 years John has been working in areas relating to social work and children, first as a social worker in Hampshire and Camden acquiring substantial experience in child protection, family placement and residential care settings.. He was then appointed as a Lecturer and a Senior Lecturer in Social Work and finally became Head of Social Work Programmes at Goldsmith's College, University of London.
In 2000, John joined the British Association for Adoption and Fostering (BAAF), now CoramBAAF, as the Director of Policy, Research and Development. He is currently responsible for CoramBAAF's contribution to the development of policy and practice in social work, health, the law and research.
John has written and edited a number of publications, including co-editing 'The Child Placement Handbook: Research, Policy and Practice' and writing 'Good Practice Guidance: The Role of Special Guardianship'. John is also Chair of the Kinship Care Alliance.
His extensive work demonstrates his exceptional commitment to young people and to social care, and in 2015 he was awarded the Order of the British Empire (OBE) for services to children and families.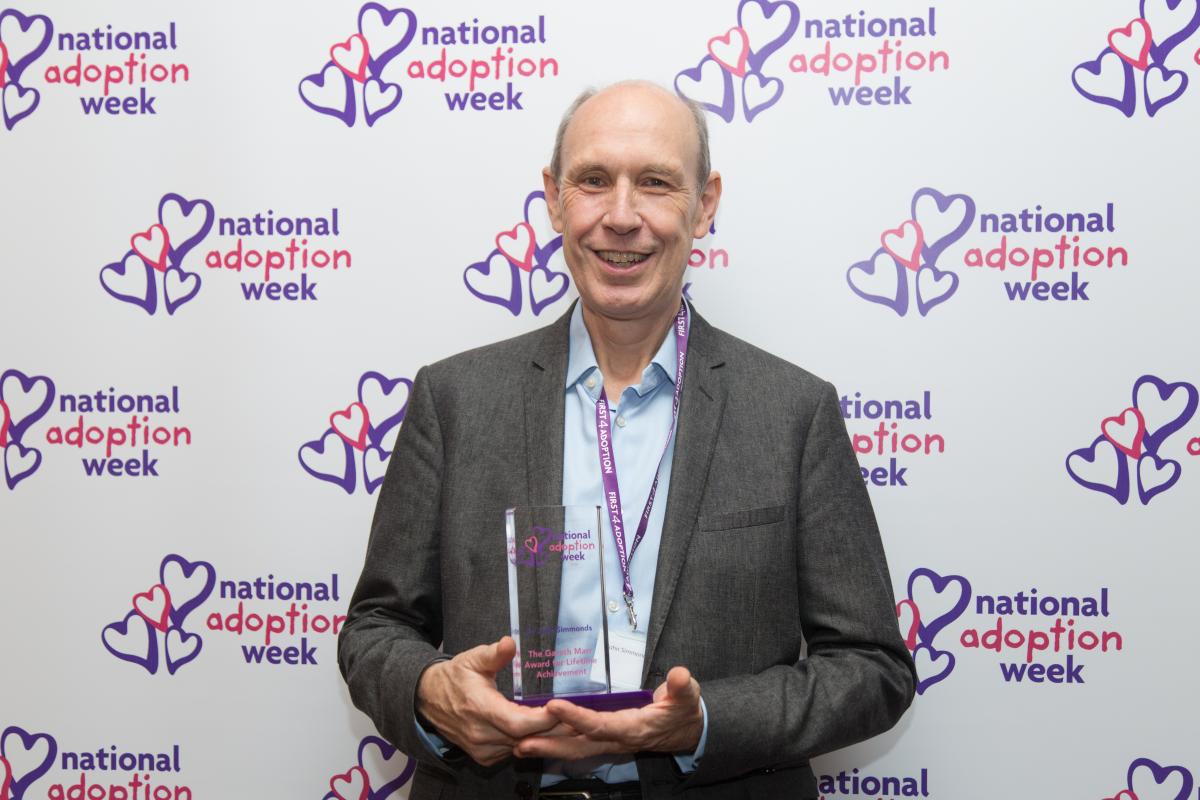 Dr Carol Homden CBE, Chief Executive of Coram said,
"this award deservedly recognises the commitment, wisdom and leadership shown over his career by John Simmonds and CoramBAAF. It demonstrates the essential ingredients needed to improve outcomes for children in complex circumstances and inspires us all for the future."
Dr John Simmonds said:
"I've worked with wonderful people who have influenced what I've done for 40 years now, and what an utterly inspirational group of people I've worked with whether that's social workers, doctors, nurses, lawyers, or researchers. I have drawn on their expertise and their commitment. The central message is the children that they have been focused on doing the best for".

"Relationships are so key to who we are and so key to who I am, and I think this represents the essence of my life. Thank you to all of those people, it is unbelievable and I'll be reminded of that every time I look at this plaque".
John, who lives in Highgate, North London, is also the adoptive father of two children, now adults, and a grandfather of three children.
The National Adoption Week Awards recognise and celebrate good practice and exceptional achievement among those working or involved in adoption in England. The winners were announced at an awards ceremony in London on Tuesday 16 October. Find out more at first4adoption.org.uk/nationaladoptionweek/awards.