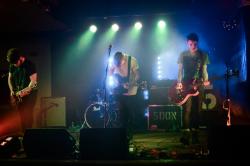 Rob Lindsay, Owen Johns, Iain Smith and James Burrows who work for construction firm and Coram corporate partner, Balfour Beatty, raised £1,584 by putting on CoramJam, which attracted over 180 music lovers.
This total was generously matched by Balfour Beatty, bringing the overall figure to £3,168.
Acts included acoustic duo Crimson Kicks, local indie rock group 5 Days of November (pictured) and Nottingham singer songwriter Georgie Rose.
Organiser Robert Lindsey said the evening exceeded their expectations: "The calls and texts have been rolling in all day saying what a fantastic time everyone had last night – 'the best night we've had in a very long time' is a particular favourite of mine!"
The Balfour Beatty colleagues will run as 'Team Sole Destroyer' in the Virgin London Marathon 2014, raising funds for Coram. To support the team, please visit their fundraising page here.
Balfour Beatty is Coram's largest single corporate supporter. For more information on the partnership click here.
For fundraising ideas and more about how you can get involved with supporting Coram's vital work, contact us on fundraising@coram.org.uk.
Useful Links
Ways you can get involved Our corporate partnerships