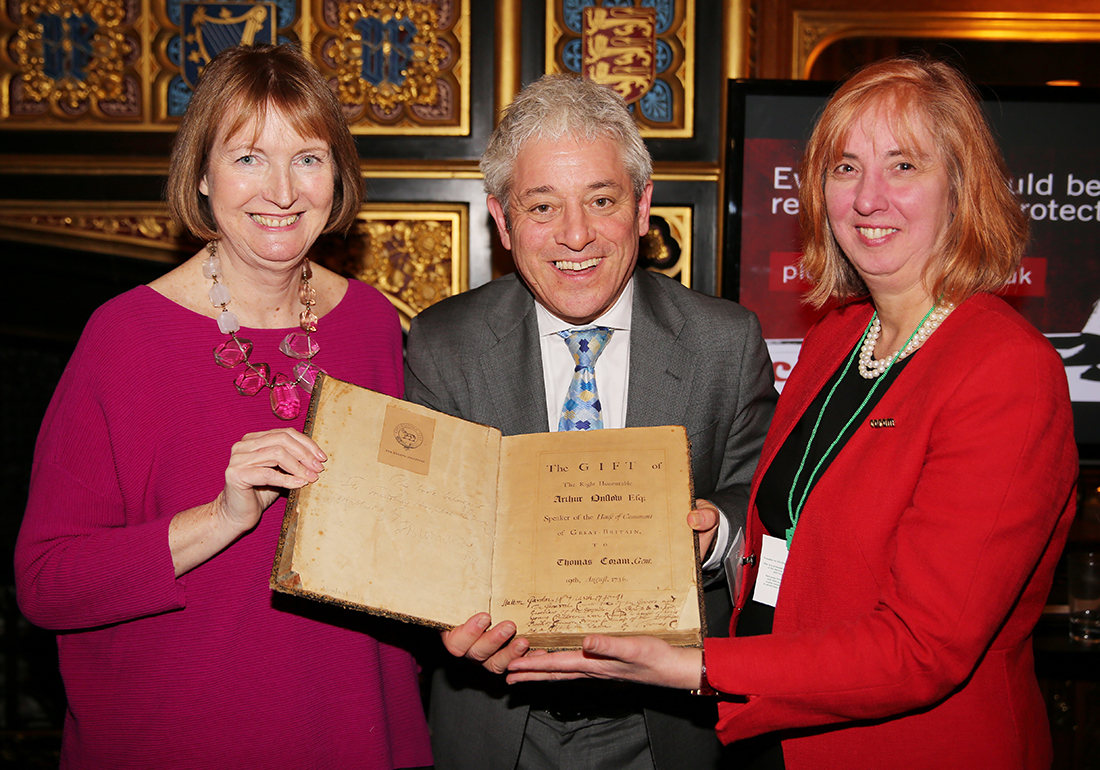 The Rt Hon Harriet Harman MP, The Rt Hon John Bercow MP and Dr Carol Homden CBE, Chief Executive of Coram, with the prayer book presented by Speaker of the House Arthur Onslow to Thomas Coram
Coram published the report to mark the 350th birthday of its founder Thomas Coram, whose groundbreaking drive, vision and commitment started a shift in the way England protected and regarded children.
The report outlines eight priorities for action, which draw on Coram's expertise across law, social work, health, education and policy, to help ministers, civil servants, local authorities, opinion formers and policy makers take a shared view on what is needed. These are matched by a clear commitment from Coram on what the charity will contribute in each area.
The priorities include strengthening the legal framework for children, ensuring the voices of children are always heard on decisions that matter to them, providing secure loving families for all children who need them, and tackling educational exclusion.
Dr Carol Homden CBE, Chief Executive of Coram said: "Our call for change highlights some of the challenges facing children today and the improvements we want to see to ensure that children have the best possible chance in life.
"As the first children's charity and the birthplace of children's social care, we are committed to developing new ways to help children thrive, and that ensuring that services and society enable them to face new challenges. We will not rest until every child is respected and protected with the safety, love, education and equality of opportunity to which they are entitled."
The Rt Hon John Bercow MP said: "For me, the event has a special relevance. Arthur Onslow, the longest serving Speaker of the House, was a founding governor of the charity and was regarded as a powerful visionary, in the same way as Thomas Coram.
"There are still far too many children and young people who need access to support. It is a great pleasure to echo Arthur Onslow's support and launch Coram's call for change so that all children can be respected and protected."
The Rt Hon Harriet Harman MP said: "Thomas Coram believed that every single child has a worth and value that should be respected. It's a different era but the same important principles remain.
"I'm very proud to support Coram's pledge – now is the moment for parliament to work cross-party so that every child is safe, supported and can get their rights."
During the event, Coram launched an online campaign for people to pledge their support for every child to be respected and protected. To find out more please visit pledge.coram.org.uk.
Useful links
Read the Respected and Protected report
Find out more about Thomas Coram and Speaker Onslow
Sign our Respected and Protected online pledge