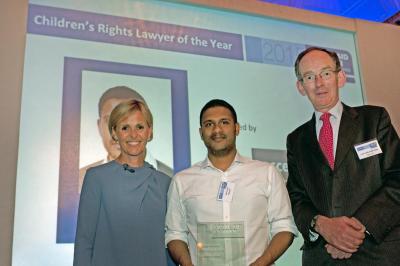 For nearly a decade Noel has specialised in all areas of family and child law, including care proceedings and adoption. Noel has built up the legal representation and litigation work of CCLC and is a published author on child and family law, including authoring the Law Society's guide to the Children and Families Act 2014. Noel is also a member of many legal bodies, including the Association of Lawyers for Children's Executive Committee and the Law Society's Children Law Sub-Committee.
Dr Carol Homden, CEO of Coram, said: "This is a fantastic achievement for Noel and his lasting commitment to defending the rights of vulnerable children through Coram Children's Legal Centre.
"Hundreds of children have benefitted from Noel's legal representation and expertise and we are incredibly grateful to have him in our charity group. Congratulations Noel for this well-deserved recognition in the sector."
Noel Arnold said: "This is a very happy moment for me but this award is just as much, if not more, a reflection on all the good work the Legal Practice Unit at CCLC does for children and young people.
"Our team of dedicated lawyers in the Legal Practice Unit are committed to standing up for children and young people so that they get the protection they deserve."
The Legal Aid Lawyer of the Year awards were founded in 2003 to recognise and celebrate the work of high calibre lawyers at the legal aid coalface. This is the first year that recognised exceptional children's rights lawyers.
Coram Children's Legal Centre's mission is to promote and protect children's rights in the UK and overseas through the law, policy and practice.
Useful links
More about the Coram Children's Legal Centre
Coram Children's Legal Centre's website