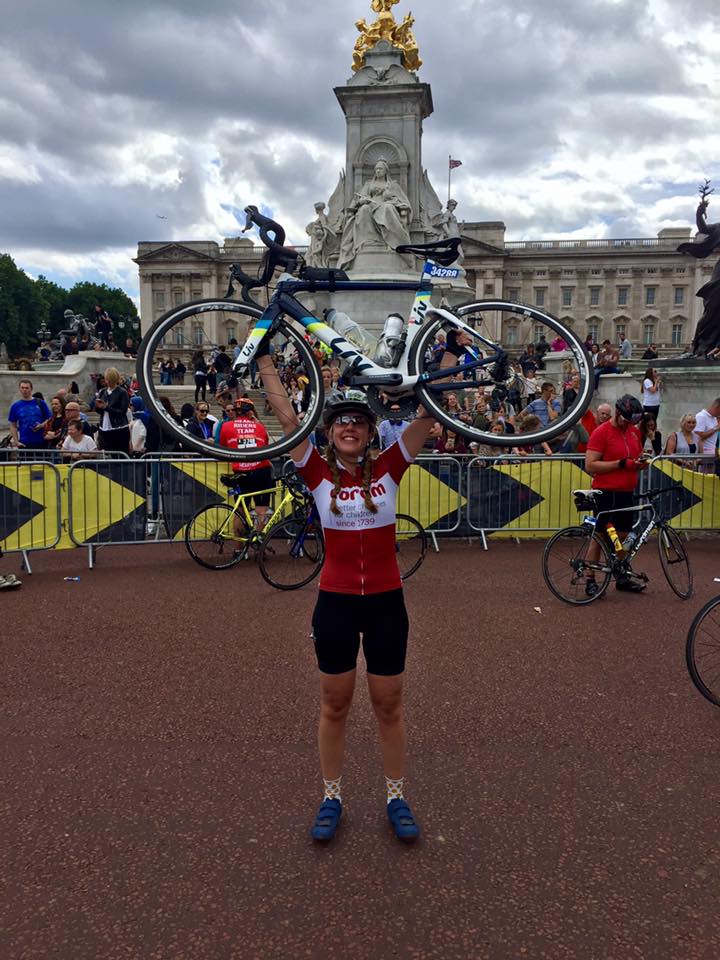 "On Sunday 30th July I completed the Prudential London-Surrey RideLondon 100 in aid of Coram.
RideLondon is the UK's biggest cycling event, with 24,000 people tackling the 100-mile route. It starts in the Olympic Park in Stratford and heads out through Central London and into Surrey, tackling some of its notorious climbs including Leith and Box Hill, before snaking back towards the city and finishing spectacularly on The Mall.
I am a Corporate Account Executive in Coram's Fundraising Team and my role is to manage our incredible partnership with Club Peloton. I took up cycling last year, after returning from Club Peloton's Cycle to MIPIM – an epic 1,500km ride from London to Cannes. Inspired by the cyclists' achievement, I decided to put myself on two wheels and give it a go.
Club Peloton is a fundraising organisation that runs cycling events for participants in the property industry and has raised an astonishing £1m for Coram since 2012.
I decided to take on the challenge with my Dad and we raised more than £3,000 along the way. This will enable Coram to find and prepare five adoptive families – giving them training and support to help them provide loving and secure homes to children who have had unimaginably difficult starts in life. After months of training and preparation, the big day was soon upon us and we nervously anticipated our 4am wake-up call.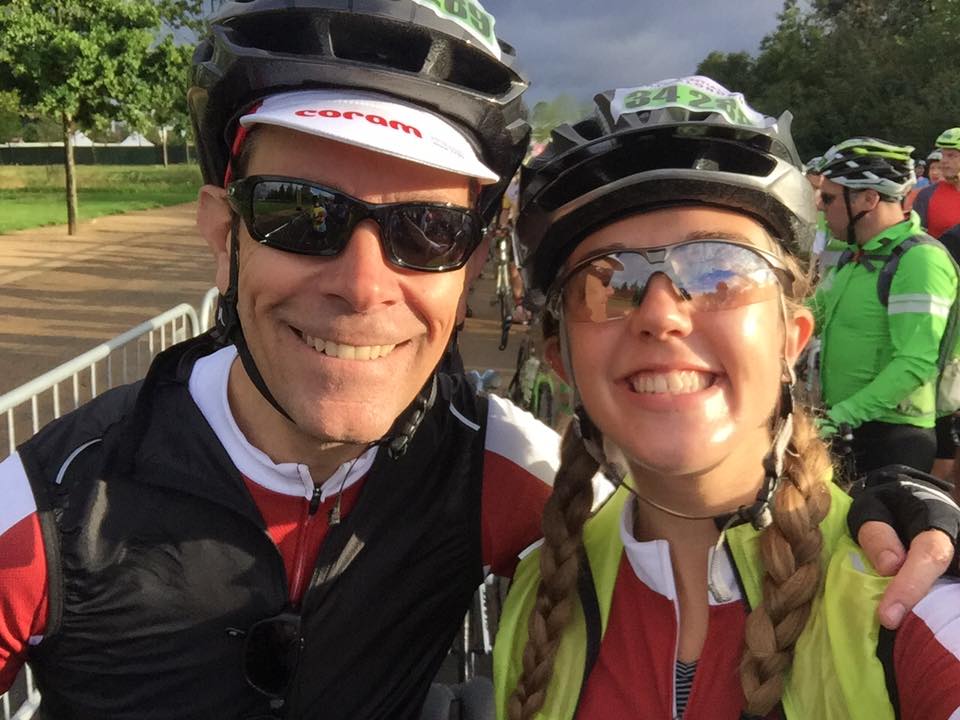 After a bleary-eyed start and a bowl of granola, we made the five mile journey to the Olympic Park for our wave opening time of 5:30am. The sun was yet to rise, so we made our way through the dark and quiet streets of London, mentally preparing for the day ahead.
Once we made it to our starting pen we still had about an hour to wait to set off. Proudly wearing our Coram jerseys, we soon spotted a fellow Coram rider and friendly face – Calum Graham from Coutts, who recently chose Coram as their charity partner.
Before we knew it we were limbering up at the start line and with Daft Punk blasting from the speakers, we were off!
We headed onto the empty A12 – which felt very odd with no traffic – and embarked on our journey, watching the miles tick by as our fresh legs happily pedalled through the city. There was the occasional supporter cheering us on as London was still waking up, and we got a wave from an adorable little girl still in her fluffy pink dressing gown.
At mile 26 we stopped off at the Hampton Court Hub to refuel, and at mile 42 we started a steady, sneaky incline into the Surrey Hills, which are as their name suggests: hilly. For the next 30 miles we were either climbing or descending and we tackled the three main hills of the route: Newlands Corner, Leith Hill and Box Hill. Leith Hill was by far the most challenging and on a narrow country lane was also difficult to navigate with lots of cyclists having to walk their bikes up the side of the road.
Box Hill felt like a dream compared to Leith and, buoyed on by supporters reassuring us the top was just around the next bend, it passed by relatively easily. By this point, though, we were at mile 70 and feeling very weary. Fortunately we started to see signs to London more frequently and kept ourselves going with lots of snacks; we were fixated now on watching the miles creep by and getting back into London for a celebratory drink.
The last few miles were tough as we pushed our bodies and bikes to go further than they ever had before and The Mall was a wonderful sight – spectators cheered us on, as they had done throughout the route, which made a world of difference especially when you were having a low moment.
Crossing the line and receiving our medals was an amazing feeling, we were exhilarated by the adrenaline and relief of making it round in one piece and being part of such an incredible day. Tiredness soon kicked in and we collapsed – bikes and all – into a taxi. Stretching and showers were top priorities and then we toasted the achievement with a celebratory glass of fizz.
To cycle that distance with my Dad, in aid of a charity I care so much about, was just fantastic. The organisation and support on the day far exceeded my expectations as did the sense of unity on the road. It was an honour to take part and to ride for Coram and I would love to give it another shot next year – chapeau!"
Coram raised in excess of £15,000 to support its work for the UK's most vulnerable children. Funds raised will help children to find their 'forever family' through Coram's adoption service and to overcome trauma through Coram's pioneering creative therapy. A huge thank you to our 19 cyclists this year, who raised a record amount for Coram.
Useful links