The 433km ride took the group three days to complete and included the famous San-Remo stretch that rides out of Milan and through the Alpes-Maritimes region.
Two thirds of the total amount raised will go to support Coram's unrivalled and pioneering adoption service. The money raised will help find stable, loving homes for the UK's most vulnerable children, as well as providing post-adoptive care to help families to thrive.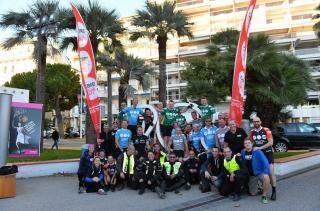 Margaret McCulloch, Head of Fundraising at Coram was thrilled with the outcome of the ride and said:
"We are absolutely delighted with the generous support we receive from CYCLE TO… and this year's ride to MAPIC will help us help even more vulnerable children and young people.
Last year Coram reached over one million young people and with such valued support from our partner, CYCLE TO…we are able to continue this vital work.
Congratulations and a huge thank you to everyone at CYCLE TO.., including all the riders who took the challenge, and to the sponsors who supported them. All of us at Coram greatly appreciate all of your efforts."
This is the fourth year of the CYCLE TO… and Coram partnership and this year's ride was sponsored by commercial real estate and investment firm, CBRE.
For more information about CYCLE TO… contact Martin Cooper on martin@cycle-to.org
Useful links
Find out more about our corporate partnerships Find out more about CBRE Find out more about CYCLE TO…