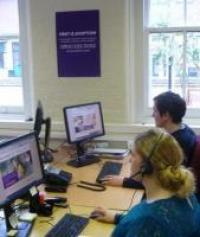 In addition to a phone line 0300 222 0022 operated by First4Adoption, the website brings together the information people need to navigate the adoption system.
First4Adoption is run by Coram Children's Legal Centre, Coram and Adoption UK.
Research published today by the Department for Education shows that over 4 million (1-in-7) people in England would consider adopting, but are held back by myths and a lack of clear information about adopting.
The new First4Adoption online service aims to help overcome these barriers by giving clear, independent information about adopting in England. This includes facts such as who can adopt and how to start the adoption process – together with examples of people from a range of backgrounds who have successfully adopted, a myth-busting section and an adoption agency-finder.
Speaking to The Times today, Coram Chief Executive, Carol Homden said:
"This is the first time ever that there has been a single point of call for people who are in the early stages of considering adoption.
"It's really important in making an emotional and life-changing decision of this kind that prospective adopters have the opportunity to explore any anxieties and issues that they may have at the start of that process.
"It's essential we make sure wherever an adopter comes from, and wherever a child comes from, they can find each other."
Would-be adopters can also call the First4Adoption information line (0300 200 22220) staffed by trained advisers to get authoritative information about all aspects of adopting, and to find adoption agencies in their area.
In March 2012 there were 4,600 children waiting to be adopted. Figures show that over 600 additional adopters are needed annually to keep up with the growing number of children waiting to be adopted, and a further 3,000 adopters are needed to tackle the backlog of children waiting for homes.
Gemma Gordon-Johnson, Head of Service at First4Adoption, said:
"If you would consider giving a loving home to one of the many children waiting to be adopted and want clear information about adopting, we can help. If you have a question about your suitability to adopt or about the process of adopting a child, visit us online or phone us today."
The info line is open from 10am-6pm, Monday- Friday. First4Adoption is funded and supported by the Department for Education.
Useful Links