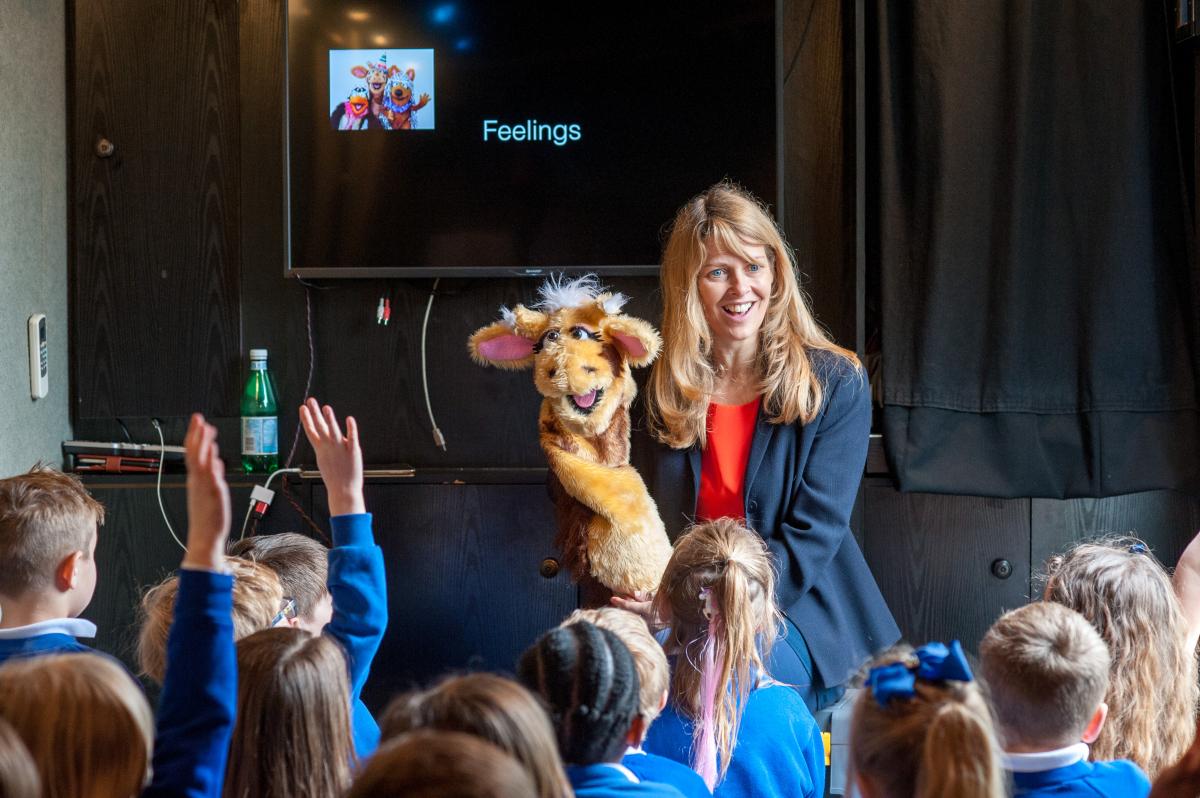 The new programme, which is delivered by charity Coram Life Education (CLE), and funded by Gloucester-based Ecclesiastical Insurance, will benefit more than 18,000 children at 91 primary schools throughout Gloucestershire.
Last week, the Coram life bus headed into Hempsted Primary with educator Anita Collins delivering a range of age-appropriate sessions to pupils at the school.
Staff from Ecclesiastical were able to join the Year 2 session, in which pupils had the chance to meet Harold the Giraffe and become 'feelings detectives' as they learned how to resolve friendship issues and how to recognise, name and understand how to deal with feelings such as anger and loneliness.
They also learned about different types of bullying, understand that bullying is unacceptable and where to go to get help if someone else's behaviour is upsetting them. A section on the human body and its internal parts helped them understand how the body gets energy from food, water and oxygen, the importance of exercise and sleep and learn about the safe use of medicines.
The new Relationships Education programme was developed in response to research* undertaken by CLE and specialist insurer, Ecclesiastical. It revealed that:
The biggest issue schools said they face is friendship issues (83%) and while the majority are confident teaching about friendships and family, they want more support to teach puberty, reproduction and feelings, and staying safe and consent
Two thirds of schools say they need more guidance on statutory requirements
One in three primary schools need more help with identifying children's needs in relation to Sex and Relationships Education (SRE)
Comprising lesson plans, activities and teacher and parent guidance, the new Relationships Education programme is aligned with recommended content set by the Department for Education and has been funded by a £50,000 donation from Ecclesiastical. It helps schools prepare for when SRE becomes statutory in all primary and secondary schools from September 2019 and to address the issues they identified in the survey.
It is now available to the 200,000 children nationally at schools already working with Coram, including the 18,725 children in 91 schools in Gloucestershire that CLE already works with. It is also accessible to all schools through CLE's online platform, SCARF, which enables teachers to access over 200 easy to use PSHE curriculum-based lessons, with useful planning tools.
Harriet Gill, Managing Director of Coram's education programmes, said: "Coram Life Education is ready to support schools with statutory Relationships Education 2019 thanks to our invaluable partnership with Ecclesiastical.
"Over 60 educators across the UK, and 2000 schools with whom we work, can now deliver the programme, which includes online lesson plans for all primary year groups, engaging activities and resources, teacher guidance, tools and film clips modelling and promoting safe, memorable lessons that leave a lasting impression on children.
"We are so proud that with our relationships education programme all children will learn about their bodies, privacy and consent, healthy friendships, self-worth and safer choices to prepare them for the future."
Chris Pitt, corporate responsibility manager at Ecclesiastical, said: "Our own recent research with educational establishments** showed that 73% are concerned about the mental health of pupils, and that figure is increasing year on year.
"That's why we, as a specialist schools and charities insurer, are so proud to support this project, and it was fantastic to be able to see it being delivered first hand at Hempsted Primary. The children were really engaged with the session and had so much fun learning valuable life lessons, and meeting Harold the Giraffe of course!"