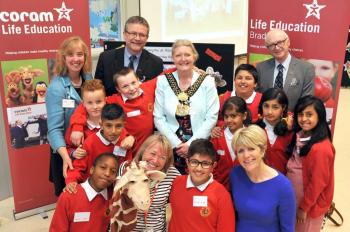 As well as celebrating the role of Life Education Bradford, a delivery partner of Coram Life Education (CLE), the event also saw the launch of SCARF, CLE's new pioneering resource for schools.
Promoting wellbeing and values-based education, the SCARF materials have been created to support schools throughout the UK to develop their Personal, Social, Health and Economic Education (PSHE).
Primary pupils at Allerton who have already had the chance to experience SCARF said: "SCARF has made me more helpful, positive and more likely to have a happy, healthy future" and "Everyone has the right to SCARF, as it has helped us and we want it to help everyone else."
Speakers at the celebration event and launch included; Professor Sir Al Aynsley-Green, Patron of CLE, President Elect of the British Medical Association and former Children's Commissioner, Dr Carol Homden, CEO of Coram and Sharon Lambert Headteacher of Allerton Primary and Nursery School and CFBT Additional Inspector of Schools.
Dr Carol Homden said: "As Allerton pupils demonstrate so wonderfully, Coram Life Education helps children be the best "me" they can be. We are working hard to ensure that greater numbers of children in schools across the country can enjoy the benefits of SCARF."
Professor Sir Al Aynsley-Green said: "The time has come for local civil society to reclaim its responsibility for its children and build communities with resilient, healthy and educated children at its heart, and Coram Life Education is a crucial catalyst for this change."
In attendance were headteachers, the Lord Mayor of Bradford, Councillor Joanne Dodds, PSHE leads from schools and academies in West Yorkshire and Councillor Ralph Berry, lead on Health Families and Safeguarding for Bradford Metropolitan District Council.
Councillor Ralph Berry, Bradford Council's Executive Member for Health and Social Care, said: "I am delighted to have attended the anniversary event organised by Coram Life Education. I am an avid supporter of the Life Education work which has been happening in our district for all these years and which enables so many pupils to learn life skills and make healthy choices."
Guests were able to visit classrooms where Allerton School pupils demonstrated the unique SCARF material in action and were also able to revisit their childhood by enjoying sessions in the enchanting mobile classroom.
Useful links
See how we help children make healthier choices
Read about #HealthyHarold's 25th anniversary celebrations
Learn more about our pioneering new SCARF resource for schools