Coram was a natural choice for the new Mayor, who has spoken about the importance of strengthening communities: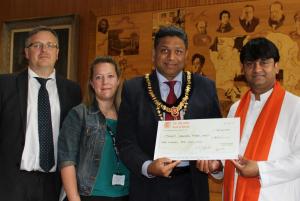 From left to right: Representing Coram – Peter Tolley, Alison Pavey, The Mayor of Harrow Cllr Ajay Maru and representing ISSC Dr Parmar
"Children are just as important as other members of the community. Supporting them and seeing what good we can do in helping their wellbeing and welfare is important. Harrow Council has been in partnership with Coram since 2006 and the charity has been supporting children and young people for 275 years, giving them the best possible start in life through adoption."
Coram's adoption partnership with Harrow was the first of its kind and involves Coram's experts working with the Council to provide early intervention and "permanence planning" for children in the borough. Since the partnership began in 2006, every child referred has found a loving, supportive adoptive family.
All charitable funds raised throughout the Mayor's term will now benefit Coram.
A donation of £501 from Gurudev Dr. Rajeshji Parmar, Founder and Spiritual Leader of the International Siddhashram Shakti Centre (ISSC) has already been received.
Useful links:
Find out more about adopting with Coram
Find out more about the Coram-Harrow partnership