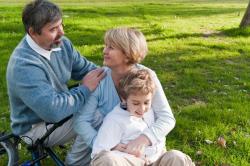 Ofsted rated the service as 'Outstanding' finding that excellent practice has significantly improved the life chances of adopted children, particularly those who might have faced delay in being placed for adoption due to ethnicity or being part of a sibling group.
Coram Adoption East Midlands, which welcomes enquiries from people living within one hour's travelling distance of Shepshed, Leicestershire, also received 'Outstanding' in its last Ofsted inspection in 2011.
Jeanne Kaniuk, Coram's Head of Adoption, said: "Not only is the quality of preparing, matching and supporting adoptive families very high, the service is also very timely and families are approved within statutory timescales, well above the rate of the national average.
"This has been achieved despite maintaining an excellent record of successful adoptions, with no disruptions occurring before an adoption order has been granted for over five years now.
"We hope that this assessment will encourage people considering adoption in the East Midlands to contact us, and we are delighted that our passion and professionalism has been recognised in this way."
Coram Adoption East Midlands' group work, activities and one-on-one support with adopted young people was particularly praised. Young people were said to be extremely well engaged and supported, with an exceptional understanding about the experience of being adopted and increased self-confidence and self-esteem.
High levels of knowledge and commitment among staff meant that children's safety and security in their adoptive placement was protected. One adopter commented that the support they'd received after adopting was 'incredible', commenting, 'I would have been lost without them. '
Coram Adoption East Midlands is one of Coram's three dedicated adoption branches, along with the Central and South London service and Coram Cambridgeshire.
Coram's adoption service has one of the highest placement success rates in the country. Coram is specialist in finding families for older children, siblings and children from BME backgrounds, often deemed "hard to place". Along with finding loving, permanent adoptive families for children in care, Coram works in partnership with local authorities to help improve adoption services.
The full report is available here.
Useful links