Coram works to change children's lives for the better.
Every year we work with hundreds of thousands of children, young people, families and professionals to ensure as many children as possible receive the love, education and opportunity that should be theirs by right. We tackle the big challenges too, working to improve the systems and policies that affect children's chances in life. All of our work aims to improve seven key outcomes for children and young people.
A fair chance in life
We champion children's access to justice and ensure that those in care or subject to court decisions have a voice in the decisions that affect them.
We are the country's leading provider of specialist legal support for children
Our support covers education, discrimination, immigration, asylum, community care and family law
We work worldwide to ensure that children can access their rights under the United Nations Convention on the Rights of the Child
Read more
A loving home
We find secure, loving families for children through adoption. We provide support, including creative therapy, to children and professionals in all kinds of family situations.
Coram Adoption is an outstanding-rated voluntary adoption agency that provides services for local authorities across London through our regional adoption agency Coram Ambitious for Adoption
Our Creative Therapies team provides art and music therapy that builds children's skills and resilience
Coram IAC – Intercountry Adoption Centre – is the UK's only dedicated international adoption charity
Read more
A voice that's heard
We put children and young people in care at the heart of what we do, and ensure they have a say in decisions that affect their lives.
We work every year across the country with thousands of children in and leaving care to ensure they are heard in decisions that matter to them
We give care-experienced young people the opportunity to work on creative projects exploring the history of care, tell their own stories and challenge negative perceptions
Read more
A chance to shine
We work to ensure as many children as possible have the opportunity to take part in performance and drama that builds their knowledge, skills and confidence.
The Coram Shakespeare Schools Foundation enables thousands of young people to perform annually in the world's largest youth drama festival and also make their own films, building their confidence, teamwork and willingness to learn
Read more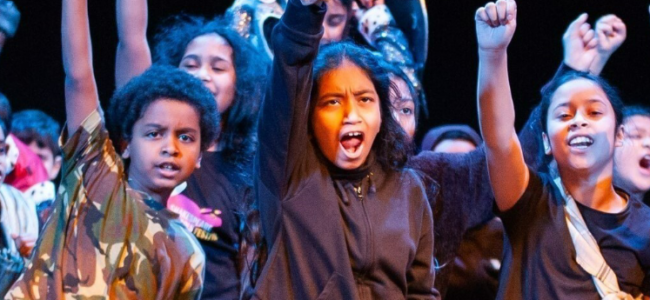 Skills for the future
We deliver programmes in schools across the country to support teachers in giving children a rounded educational experience that equips them for the future.
We are the leading provider of health, wellbeing, relationship and drugs education to UK primary schools
We support children with reading by recruiting, training, and supporting volunteers who read with children one-on-one in schools
We enable young people to develop their careers and help others through placements, training and volunteer roles
Read more
No matter where
We work with government, local authorities, social workers, carers and families to deliver better practice, systems and laws for children.
We publish the annual childcare survey, the reference for understanding cost and availability of childcare across Great Britain
Our membership organisation helps care professionals, foster carers and adopters share best practice and shape policy
We work with local authorities and our partners Microsoft, EY and PA Consulting to deliver better children's social care services through our innovation incubator
Read more
A society that cares
We provide professionals, local authorities, and governments with innovative solutions that enable children's services to resolve key challenges.
We work in 42 countries to protect and improve the rights of children and young people
We carry out research with children, young people, parents and professionals to establish what works best in children's services and improve practice
The Coram Institute will be the only think tank dedicated to the future of children, collaborating with partners to deliver tangible solutions
Read more
"I had the most fantastic social worker from Coram who was my absolute rock, she was there through thick and thin. She was the 'Rolls Royce' of social workers, she went above and beyond. She was always on the end of the phone."