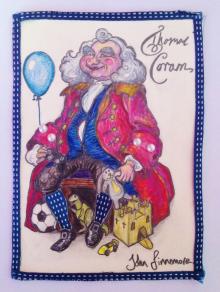 Cards designed by actor Benedict Cumberbatch, comedienne Jo Brand and 60s icon Twiggy have raised over £8,500 for Coram.
Each card was personally designed and signed by each individual celebrity using a selection of crafting goodies from event organiser and auction host Stampin' Up! UK.
Comedy writer and actor John Finnemore's card re-worked William Hogarth's famous portrait of Thomas Coram from 1740 (pictured here).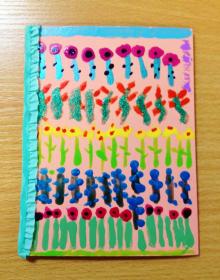 Margaret McCulloch, Interim Head of Fundraising at Coram said, "This is a fantastic boost to our vital work supporting vulnerable children.
"It is fitting that Cards for Keeps has supported us through a creative initiative, because in our charitable work we use drawing and painting to help children with communication difficulties express themselves.
"The auction has been a great success and we hope all the bidders are delighted with their unique celebrity cards"
All the cards are still on display on Pinterest, so you can take a look at the designs our generous bidders have snapped up.
Actors Tom Hiddleston and Benedict Cumberbatch were just a few of the celebrities who created designs, with their cards selling for over £5,000 alone.
Coram is the UK's first children's charity which today helps a million children and young people every year. It helps children and young people develop their skills and emotional health, find adoptive parents and uphold children's rights.
The full list of celebrities who designed cards included:
Benedict Cumberbatch, Tom Hiddleston, Twiggy, Joseph Fiennes, EL James, Fern Britton, Esther Ranzten, Rachel Riley, Andy Stanton, Marian Keyes, Jo Brand, Karl Pilkington, Tina Morgan, Pete Fowler, Nick Sharratt, Matt Pritchett, Liza Tarbuck, Anita Klein, Joanne Harris, Alison Steadman, Helen Craig, Ben Jennings, Arthur Darvill, Min Cooper, John Finnemore, Helen Reid, Phyllis Logan, Evelyn Glennie, Axel Scheffler, Rebecca Cobb, Philippa Gregory, Doon Mackichan
Useful links
Find out more about our 275 celebrations