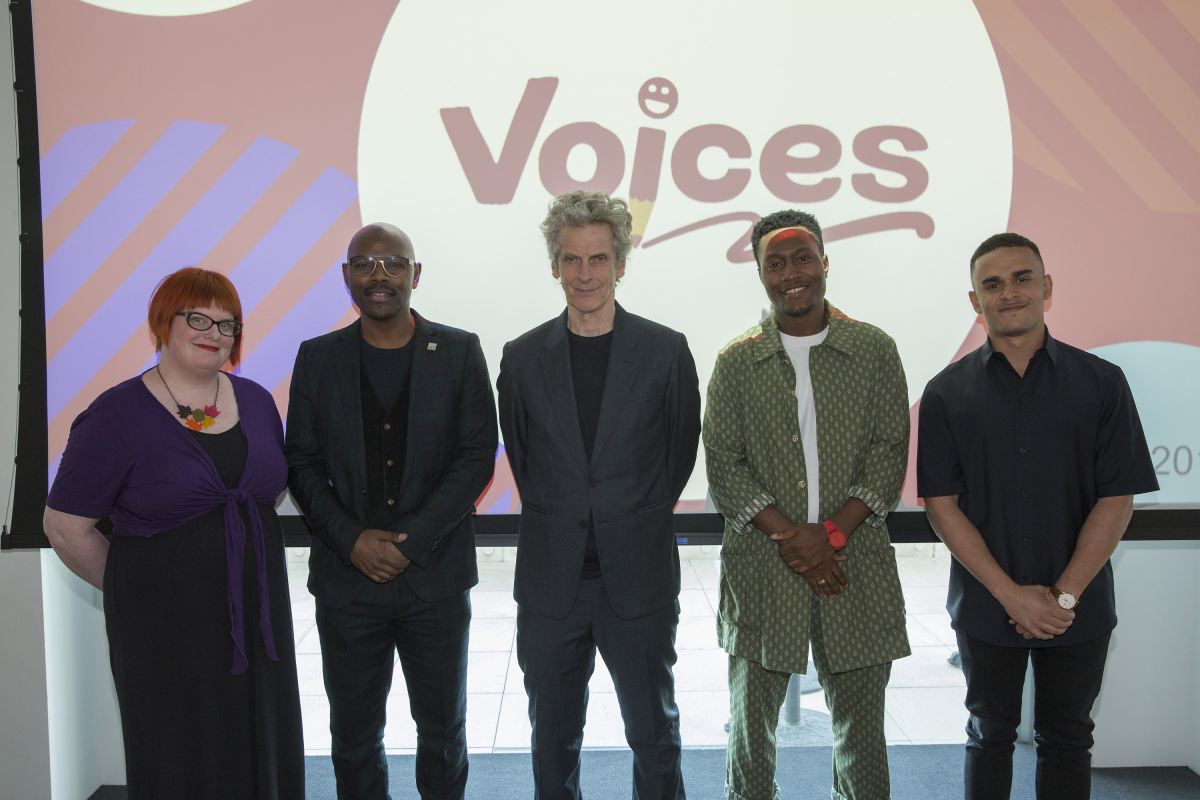 Peter Capaldi with Voices 2019 judges Alice Broadway, Mr Gee, Ric Flo and Ashley John-Baptiste
Coram Voice launched the competition in 2016 as a positive platform for children in care and young care leavers to share their stories and celebrate their talents.
Peter Capaldi said:
It has been wonderful to see the competition grow and I am knocked out by the talent of those who take part. The experience of care is not a straightforward one and needs greater understanding from all of us. There are few things that illuminate it more than these powerful words, chosen by gifted and resilient young people.
24 entrants were shortlisted in the competition across four categories: primary, lower secondary (ages 11-14), upper secondary (ages 15-18) and care leavers.
The competition judges included writers, authors, poets and journalists, with a special interest in, or personal experience of the care system, They praised the entrants on the powerful and creative ways they met the competition theme of 'Growing Up.'
The Voices 2019 winners are:
Primary winner – On Reflection, by Anonymous, age 10
Children's author Jarvis and author Jenny Molloy said 'we love the pace and simplicity of this piece. The title 'On reflection' is a perfect choice, each line reflects another and it grows in power as it reads. A beautiful and intimate poem, we I wondered how the writer felt after writing this – proud we hope.'
Lower Secondary School winner – Does Height Matter? by Adam, age 11
Poet Mr Gee and author Kiran Millwood Hargrave said 'The poem is an amazing combination of both funny & insightful observations surrounding the idea of size. The awareness of being physically "small" but potentially "huge" is both clever and inspiring to all ages."
Upper Secondary School winner – Shedding Of Skin by Winnie, age 17
BBC reporter Ashley John-Baptise and author Alice Broadway said "WOW. What an incredibly emotive piece of writing. We were both blown away by the standard of writing and amazed that this writer has English as a second language. They told their story with rawness which engaged the reader utterly."
Care Leaver winner – The Girl Behind The Glass by Sophia, age 21
Rap artist Ric Flo and author Kit De Waal said, "We were both so impressed with the imaginative angle to this poem. We had to read it twice to see all the imagery and would like to congratulate the writer on such beautiful heartfelt writing with a strong and memorable title."
Brigid Robinson, Managing Director at Coram Voice said:
We are immensely grateful that so many children in care and care leavers shared their stories about growing up, and submitted such fantastic entries to the competition. We are proud to showcase their work and proud of every single young person who entered.
Thank you to our supporters Havas, Cadence Innova, The Queen's Trust, Nick and Katie Searl and Rosemary and Bernard Mayes for making the competition possible.
Find out more about the competition