The Shadow Chancellor of the Exchequer, Rachel Reeves, today met with staff from Coram Children's Legal Centre (CCLC) and Coram Family and Childcare (CFC) at CCLC's Leeds office, to hear about Coram's work to support families in a number of key areas.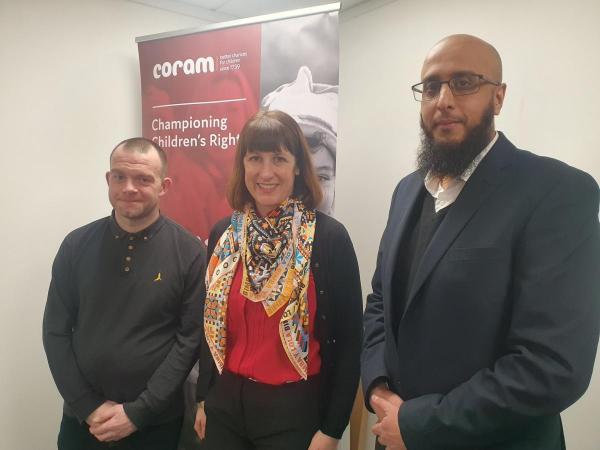 Rachel Reeves, the MP for Leeds West, was welcomed by Coram CEO Dr Carol Homden and had the opportunity to meet Qaisar Sheikh, CCLC's head of education law, Gregg Burrough, senior education solicitor at CCLC and Megan Jarvie, head of CFC.
During her visit, the shadow minister learned of CCLC's specialist and complex casework for children, young people and their carers, usually funded through legal aid, covering family, education, community care and immigration and asylum law. Ms Reeves also heard first-hand about the devastating impact on access to justice for children, young people and their carers since the Legal Aid Sentencing and Punishment of Offenders Act (LASPO) was introduced in April 2013, removing most of education law from the scope of legal aid, in addition to immigration and family law. A 2018 CCLC report estimated that the collapse of legal aid caused thousands of miscarriages of justice.
Qaisar Sheikh underlined some of CCLC's major concerns including the lack of legal aid for school exclusion, with the worrying outcome that many excluded children never return to mainstream education. Gregg Burrough also spoke on the record number of appeals piling up in the SEND Tribunal, and the widespread failure to implement children's Education, Health and Care Plan (EHCP).
Ms Reeves also had the opportunity to meet with families who have benefited from CCLC's work. Ed McCarthy, whose daughter Rainah has an autism diagnosis, told Ms Reeves how CCLC had managed to secure a specialist school for Rainah after the local authority had failed to allocate a school place to meet Rainah's needs. Ed said that since joining her new school, Rainah's speech development, reading and social interaction has astounded everyone.
Megan Jarvie told the shadow chancellor about the rising costs of childcare and the lack of childcare places, particularly for disabled children. She outlined a number of problems meaning families face a complex system where childcare is not affordable for too many and childcare providers face a recruitment and retention crisis. Megan also highlighted the potential of reforming the system, including enabling it to achieve its potential to narrow the achievement gap that opens up between disadvantaged children and their peers before they even start school.
Dr Carol Homden said: "In Coram's work across the country, we see first-hand the increasing challenges that children and families are facing at this time. There are too many children and young people – particularly those who have additional needs – who are unable to access their right to education and the support they need to thrive. Coram is working to develop further capacity for free legal advice and representation to ensure young children get access to justice. We will continue to push for reform in the childcare system to ensure that this essential resource is affordable and accessible for parents, and boosts children's development."