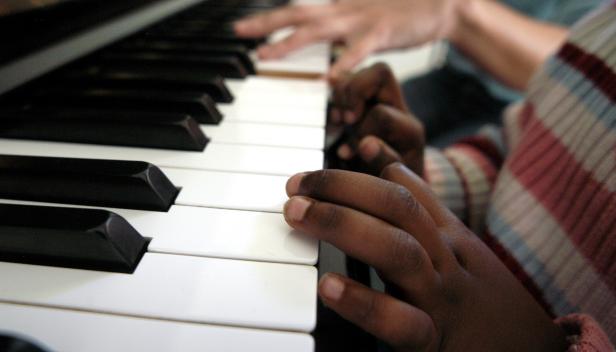 Isabel and her husband adopted siblings Sarah and Lewis through Coram, when they were just four and five years old. Those early days were very challenging, as Isabel explains:
"Lewis was a cuddly, affectionate little boy but he'd have these bouts of anger, where he'd break things.  One day, he smashed up a special playhouse that we'd bought him, and there was a look of panic on his face, like he didn't really know why he'd done it."
"Sarah couldn't trust us or anyone else and she didn't want us to help her or to look after her.  She was very independent and kept us at bay.  She was often unable to concentrate, shut away in her own protective bubble and couldn't relax or focus so she would fall over all the time."
"Our Coram social worker suggested that Sarah have some Music Therapy while Lewis try Art Therapy. In the sessions, Lewis would express very powerful, painful emotions through his drawings, but it allowed him to engage with his past and unburden himself.  He is now a happier, calmer child, and a very thoughtful little boy."
"It was also wonderful for Sarah and was our time to build her trust with a therapist's guidance.  For her this was a space where she could actually slow down and feel things . Now she is so bubbly and full of chatter. The change has been dramatic"
Today the children are seven and eight and the family feels that Creative Therapy has helped to make them feel more secure.
"One of the lovely things is the children's relationship has got a lot stronger. They weren't close at all, but now they play together and seek each other out."
Case studies are real but names are changed and models used to protect confidentiality