Yesterday, Wednesday 29 October, on the eve of National Adoption Week, Coram Cambridgeshire Adoption was delighted to welcome Edward Timpson MP, Minister for Children and Families, to officially open this newly formed Voluntary Adoption Agency at its new premises in Cambridge.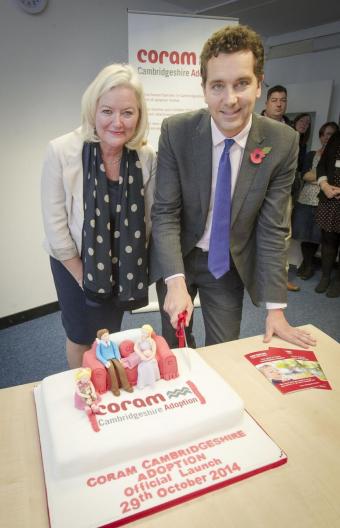 Sarah Byatt, Managing Director, Coram Cambridgeshire Adoption and Children and Families Minister, Edward Timpson cut the cake to declare the agency officially open
Coram Cambridgeshire Adoption brings together social workers from Cambridgeshire County Council and from Coram's previous Cambridgeshire-based adoption services. By pooling resources, this new agency will have greater capacity to reach out to new potential adopters and assess and approve them to provide a loving secure home to children in the Cambridgeshire area.
The Minister was welcomed by Adrian Loades, Executive Director: Children, Families and Adults Services with Cambridgeshire County Council, and Dr Carol Homden CBE, Chief Executive, Coram. As well as meeting the agency's staff, the Minister also met figures from Cambridgeshire County Council and Coram who have been key in developing the partnership, some adoptive parents and their children.
Children and Families Minister Edward Timpson, who grew up with two adopted brothers, said: "The number of children adopted has increased hugely in the last year, but with thousands still waiting for a stable, loving home I know there's more that needs to be done.
"That's why it's great to see another adoption centre like Coram Cambridgeshire Adoption open their doors as a direct result of the government's investment, finding and helping potential adopters across the region."
Dr Carol Homden CBE said: "This is an incredibly exciting development. For the first time in the adoption sector we have a different type of partnership which sees a statutory and voluntary sector player "opt in" to create an agency which brings together Recruitment and Assessment of adopters, Family Finding, Matching children with parents and Post Adoption Support. Evidence shows that forming permanent and secure loving relationships is key to improving children's wellbeing and life chances. Coram Cambridgeshire Adoption is a response, enabled by central Government, to help greater numbers of children waiting to be adopted to have such an opportunity.
Useful links
Find out more about Coram Cambridgeshire Adoption
Find out how you can support Coram