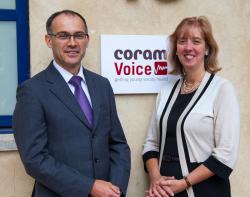 From 1 October, Voice will become a member of the Coram group of charities sharing services and together championing the cause of children dependent on the state for support.
Voice will become known as Coram Voice and will move from its current City Road base in Islington to the Coram campus in Bloomsbury. Coram Voice will retain its existing charity and company numbers and Board of Trustees.
Andrew Radford, Chief Executive of Voice (pictured), said: "Joining the Coram group of charities enables Voice to enhance our services to help even more vulnerable children and young people, while maximising efficiency and cost-effectiveness.
"Coram Voice will continue to support any child who asks for help, keeping our 'No Child Turned Away' promise, while actively seeking ways of helping the hardest to reach young people and using our experience and children's stories to improve the system so others don't face the same problems. "
Carol Homden CBE, Coram's Chief Executive (pictured), said: "We warmly welcome our colleagues at Voice to the Coram group. This is crucially important at a time when vulnerable children and young people are feeling the effects of economic pressure and the implications of changes to legal aid, and we look forward to making an even greater difference by combining expertise to improve more lives."
Voice is a national charity that works with children and young people vulnerable to harm or exclusion from society, and who have a particular reliance on the state or its agencies for their rights and wellbeing. Voice supports children and young people to participate in shaping their own lives and hold to account services responsible for their care, by providing advocacy and independent services and by campaigning for system change.
Services include a national advocacy freephone helpline, community advocacy, visiting advocacy (in open and secure settings) and independent person and visitor services.
Founded in 1739, Coram creates better chances for children, from finding loving adoptive families for those who need them most to providing supported housing for care leavers and young people who face homelessness. Two other charities have successfully joined the Coram group of charities in the past four years to form Coram Life Education and Coram Children's Legal Centre.
Useful Links