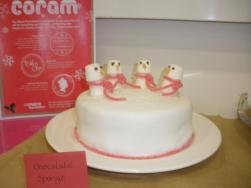 The Mace Foundation is supporting Coram's housing service which provides support and accommodation for care leavers and homeless young people.
The partnership is off to a seasonal start, with 11 of Mace's staff taking part in a Santa Run in London. A festive bake off and 'wear your Christmas jumper to work' are planned, and employees can also opt to donate the pennies from their 2014 pay to Coram.
David Steadman, Coram's Commercial Director said: "Mace Foundation's generosity will help Coram reach out to young people who have lived through terrible hardship.
We know that in a safe, supportive environment, they can learn news skills, grow in confidence and thrive in the future.
We're delighted to be working in partnership with the Mace Foundation to achieve our common goals."
Mace Foundation's Trustee Chairman and Mace Chief Executive, Mark Reynolds, said: "It's shocking that over 75,000 young people experience homelessness in the UK every year, and that one third of them will have been in care at some stage.
Coram's Supported Housing service offers vulnerable young people a roof over their head and support to move forward with their lives. 80% of young people in Coram's housing were in education, employment or training last year, compared with 60%, the national average.
The Foundation is very excited to be able to support these young people in making a positive transition to independent living."
Coram offers young homeless people secure accommodation and ongoing support to restore their hope and protect them from the dangers homelessness may have exposed them to, such as sexual exploitation and violence.
Coram provides them with a room in a specialist supported house and works intensively to help develop their capacity to live independently.
Launched in November 2012, the Mace Foundation is a charitable trust supported by Mace to support disadvantaged people and the communities in which we make an impact. The Foundation invests in various ways, including strategic partnerships with like-minded organisations, supporting individual charities, not-for-profit organisations and one-off grants.
To find out more about the Mace Foundation, please click here.
Useful Links