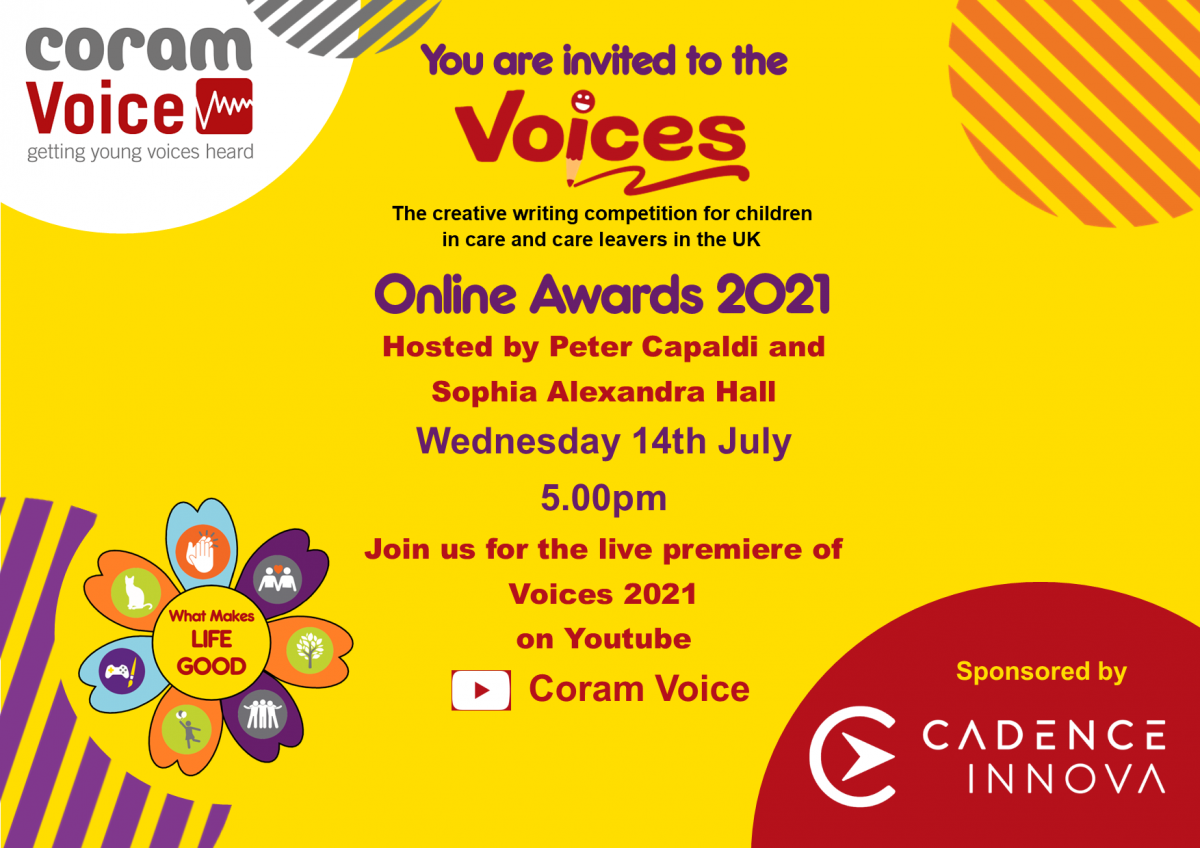 The ceremony will be streamed on the Coram Voice YouTube channel from 5pm on 14 July and will be co-hosted by award-winning Scottish actor and former Doctor Who star Peter Capaldi, a long-standing supporter of the competition, and Voices 2019 winner Sophia Hall. It will also feature members of the competition judging panel announcing this year's winners, including the children's authors Abi Elphinstone and Cynthia Murphy, novelist Kirsty Capes and the poet Joelle Taylor.
Peter Capaldi said: "It is an honour to host the Voices awards ceremony again this year. The competition is a fantastic opportunity to showcase the creativity and talent of care-experienced young people and builds greater understanding around their lives and experiences."
Sophia Alexandra Hall said: "I am delighted to be co-hosting this year's award ceremony with Peter. I'm a proud care experienced person, but that wasn't always the case. I used to hide the fact I was in care, and never really spoke about it when I was a teenager. Today, after being encouraged by organisations such as Coram, my peers, and the wider community, I embrace my experience as an important and integral part of my identity. The Voices competition means a lot to me because it's all about encouraging young people in care to use their voices, and encouraging non-care experienced people to listen".
This year marks the sixth anniversary of the Voices competition, which is sponsored by UK management consultancy Cadence Innova. The competition received over 250 entries on the theme of 'What Makes Life Good' submitted from across the country. Just 24 of these have been shortlisted over four age categories: primary (age 4-10), lower secondary (age 11-14), upper secondary (age 15-17) and care leavers (age 18-25).
Brigid Robinson, Managing Director of Coram Voice, said: "The uncertainty and disruption of the pandemic has made the past year incredibly challenging for many children and young people in and leaving the care system. But reading the competition entries, we have been so inspired by the stories and poems that show how children and young people are using their strength and creativity to deal with these difficult experiences. Their motivation and resilience is an inspiration to all.
"I want to congratulate all the young people who entered this year's competition. This is your night, and we are delighted to be able to host the awards online so that we can all celebrate together and share the talents of every young person who took part."
Gary Ashby, Founding Partner at Cadence Innova, the Headline Sponsor of Voices 2021, said: "It is our third year sponsoring the Voices competition and we are delighted to be working with Coram once again. The Voices Awards champion children's creativity and development and we are immensely proud to be a part of this inspiring contest. We hope that the artistic exploration of this year's topic – What makes life good – will not only help the participants explore their creative sides, but also grow their confidence for the future."
To find out more about the Voices 2021 competition and how you can tune in on 14 July, please visit coramvoice.org.uk/voices.