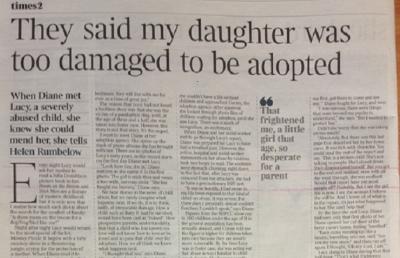 The article tells how adoption helped transform Lucy from a frightened little girl into the confident, joyful ten-year-old she is today.
In the article, her adoptive mum, Diane, says that she felt that there was something special about Lucy from the first time she heard about her. Having been approved by Coram for adoption, she understood that any child needing a new permanent family would have had a difficult start in life, but she wasn't put off.
Coram contacted Lucy's social worker to understand more about her early years and to help understand what kind of adoptive home she might need. Sadly, Lucy's childhood had been characterised by sexual abuse and neglect. But Diane still believed she would be able to help Lucy, and eventually, with Coram's support, they were matched for adoption.
In the article, Diane remembers their first meeting.
"She was very tiny. She had been under-nourished in her first years and had not caught up. She was so hyper for the first three or four months, always anxious, always running."
Night after night, Diane would read Julia Donaldson books to her, and by the third time she had heard her favourite story, Lucy knew it off by heart.
"Lucy would return to the most special of the lot, Monkey Puzzle. It begins with a baby monkey alone in a threatening jungle, crying for the protection of a mother. When Diane read it to her at the age of five, it was the first bedtime story she had ever heard."
Having had such a traumatic start in life, Lucy was sometimes angry and distressed by the past, but Diane's commitment to her as her adoptive mum never faltered. "At some stages I thought I couldn't do it but I never thought I didn't want to."
At some stages I

thought I couldn't do it,

but I never thought

I didn't want to.
Diane describes the first six months with Lucy as being difficult at times, but eventually, they began to build a safe, loving relationship. Lucy began to make friends, settle in at school, and soon, the troubles of the past faded.
"Lucy was one of the most extreme cases. But any child is not irreparable. Today she has a fantastic, full life.
It sounds like a fairytale, one with a very bad start. But it's just our lives. She's a girl who everyone wants to be around, her happiness is that infectious."
The full story is in the T2 section of The Times, Monday 9 November.
Those with a subscription to The Times can read it here:
Useful links
Find out more about our adoption services