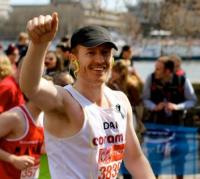 Coram has guaranteed marathon places for those who can commit to fundraising £1,750 in sponsorship. Or, if you find out you have won a ballot place, run for us and support the UK's first children's charity.
Coram first began helping vulnerable youngsters in the 1700s, running a hospital for babies who faced being abandoned on London's streets.
Today we still provide support for thousands of vulernable children through services like adoption and Supported Housing.
Coram runners recieve regular fundraising advice and support, as well as an official running vest.
You will also get support on the big day as your family and friends meet us at our charity cheering point and rally you on!
Coram's speediest finisher this year was Marcus Whiteley, who crossed the finish line after 3 hours 45 minutes. Marcus's family and friends greeted him at Mile 18, before dashing off to catch him at the finishing point.
Dan French came in at just over 4 hours. Dan spotted Arsenal and England football star Alex 'The Ox' Oxlade-Chamberlain at Mile 23 which gave him a lift: "I'm back at my desk slightly stiff but still buzzing with excitement. I can't exactly remember what mile it was I passed the Coram cheer point- but I appreciated it!"
Charlotte Spires ran for Coram and was supported by her husband and children. She completed the race in 5 hours 15 minutes: "It was a perfect day and I loved every minute of it. I'm so happy to have taken part."
Coram's Commercial Director, David Steadman thanked the runners for their incredible commitment to the charity: "The event was a massive success and we are delighted with the support that's been shown to Coram.
"Like the marathon, Coram is a proud London institution, and as the UK's oldest charity, we're delighted to be part of an event that's such a highlight of the city's calendar today.
"This event really brings the whole country together every year, so please don't hesitate to contact us if you'd like to be on Team Coram 2014!"
Follow @Coram on Twitter for updates about the latest fundraising events and charity news.
A huge congratulations and thank you to all our Coram Marathon runners 2013
*Ali Gibb * Marcus Whiteley* Scott Powell * Beverley Clayton * Charlotte Spires* Sean Hayward * Louise Bird * Dan French * Roger Megann * David Caddick * Alice Reicher
To find out more about running the London Marathon for Coram in 2014, contact events@coram.org.uk or call 020 7520 0334
Useful Links