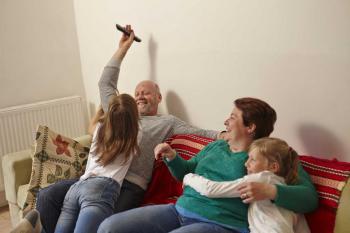 Led by national adoption information service, First4Adoption, the 'Too old at 4?' campaign aims to break down the barriers that prevent slightly older children from being adopted as readily as others.
The latest figures show that children who enter care aged four wait two years and 10 months to be adopted – 10 months longer than those who enter care under the age of one who wait an average of two years.*1
Jeanne Kaniuk OBE, Coram's Managing Director of Adoption, said there are many benefits to adopting children who are past their baby years:
"Slightly older children can have a real appreciation of the stability and sense of belonging which adoption offers to children who have experienced many moves and losses in their short lives.
Slightly older children

can have a real appreciation

of the stabiity adoption offers
"A four-year-old child isn't too old for cuddles and they often need to have the chance to catch up on the baby and toddler experiences they have missed out on, so they enjoy the games and fun that we associate with much younger children. They most certainly aren't too old to be adopted and form a loving, lasting bond in a family.
"They also have so many 'firsts' still to share with a parent – such as their first day at school, putting a tooth under their pillow for the tooth fairy, or the moment they learn to ride a bike.
"Children needing adoption have often had difficult and frightening experiences, but they are still children and can make wonderful progress when a new parent shows them love and commitment.
"If you are considering bringing a little one in to your life I would urge you to consider a child of this age, and to contact Coram or First4Adoption."
Carol adopted her son through Coram when he was five years old, and strongly supports the 'Too old at 4?' campaign:
"My son was dreaming of finding that secure home where he would be loved forever.
"Unlike a baby, he has vivid memories of our first meetings and a special understanding of his adoption- he knows that I was out there looking for a child just at the time he needed a mummy.
"Parenting isn't perfect and every child has bad days. My son's early childhood was very difficult, but he knows with me he doesn't have to hide and that I love and accept him totally.
"Older children come with beautiful things and I am so proud of my kind, considerate little boy."
Attend an information event this National Adoption Week
Coram is holding a special information meeting in the City of London to mark National Adoption Week, 2015.
The event will offer general information about the adoption process and what it's like to adopt through Coram, including talks by as adoptive parent and specialist social workers.
Coram offers adoption services throughout London and across the East Midlands. Please click here for a full listing of information events coming up soon.
Facts about the 'Too old at 4?' campaign
*1 Children who enter care aged four wait around 10 months longer to be adopted than those who enter care under the age of 1.
*2 People who live with children are twice as likely to say that children of 4 and over are less demanding than children under the age of 4
43% of under-40s say they would consider adopting in the future
54% of people aged 41-66 say living with young children makes them feel younger
About National Adoption Week
National Adoption Week (19th – 25th October) is the annual opportunity for adoption agencies and local authorities to draw attention to the thousands of children across the country whose plan is adoption. This year's theme is "Too old at 4?" – intends to highlight the fact that such young children are waiting for forever families. There will be a number of events taking place across the country to mark National Adoption Week. www.first4adoption.org.uk/nationaladoptionweek
*1 From national adoption data released by the Department for Education https://www.gov.uk/government/statistics/children-looked-after-in-england-including-adoption-2014-to-2015
*2 From a survey examining people's attitudes to adoption, families and children, commissioned by First4Adoption and conducted by Future Foundation
Useful links
Coram Adoption information events