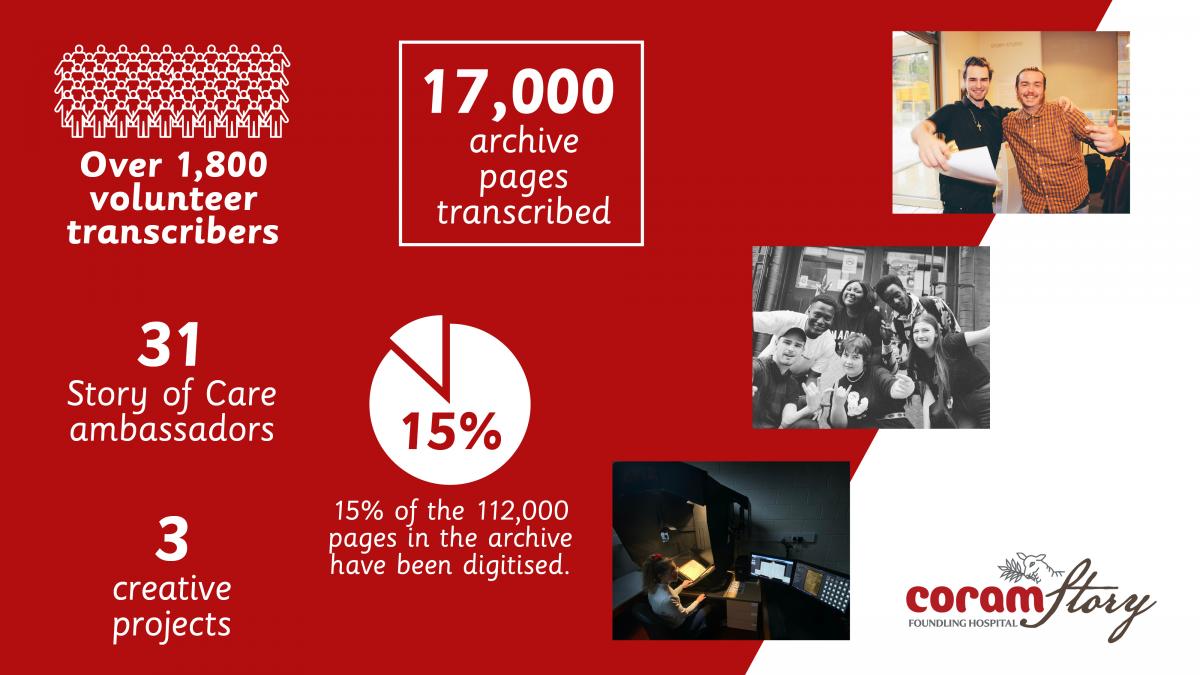 Since February 2021, thanks to the dedication of over 1,800 online volunteers, over 17,000 pages of records from the archive have now been transcribed, bringing to life the personal stories of the children who grew up in the Foundling Hospital. This is an important step in preserving these fragile documents and preparing for them to be made accessible online for the first time at coramstory.org.uk from 2023.
The archive, formed of 245 linear metres of records, is held at London Metropolitan Archives (LMA) and is fragile and vulnerable, in part due to its status as one of LMA's most popular holdings. Funded by The National Lottery Heritage Fund, the four-year Voices Through Time programme will see the digitisation of around 112,000 pages of these fascinating records.
So far, volunteers have transcribed pages of materials including the General Registers, which record the details of children admitted to the Foundling Hospital from 1741, Inspection Books detailing inspections made while children were fostered for the first years of their lives, and the highly moving petition letters from mothers appealing for their children to be admitted to the Hospital.
One of the transcription volunteers said:
"I really enjoy transcribing because you get to interact with these beautiful old documents that yield up such a wealth of information, not just about the Foundling Hospital, but also about the children themselves."
A key part of the Voices Through Time programme is collaboration with care-experienced young people today, giving them opportunities to engage with the archive and to tell their own stories of care through a series of creative projects. Over the last year, young people have taken part in projects including 'What's in a Name?' a series of spoken word workshops which culminated in live performances at London's Arcola Theatre, 'The Parlour', an interactive installation exploring three centuries of care, and 'Stitch in Time', which saw them learn various textile techniques to create a "narrative blanket" inspired by the experiences and routines of children at the Foundling Hospital.
Care-experienced young people have also been involved as programme ambassadors, enabling them to explore the past and present of care and effect change for the future. They've shared their creative responses to the archive through blogs, poems, videos and podcasts, and took part in the first-ever Care Experienced History Month in April 2021. All of their content is showcased through Coram's digital #RealStoriesOfCare campaign giving exposure to the personal stories of care-experienced children and young people over three centuries, and showing the realities of growing up in care then and now.
Nkechi, who took part in one of the creative projects, said:
"Being able to learn about Coram's archive was an invaluable experience – it was fascinating, heart-breaking and inspiring. Being able to see their faces, hear their stories, and learn about how their lives were similar and different to ours.

I feel like I have a deeper understanding of myself by understanding the experiences of the looked-after children who came before me.

I got so much from taking part. It revived my sense of purpose, gave me structure and inspired other creative projects."
Find out more about the Voices Through Time programme and ongoing volunteering opportunities at coramstory.org.uk.