Coram's Social History Editor, Carol Harris, has appeared on Radio 4's Woman's Hour in a discussion about the role of women in creating a safe haven for abandoned children in the 18th century.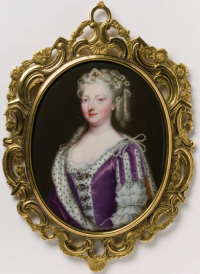 Queen Caroline campaigned for the Foundling Hospital
She focused on Queen Caroline, wife of King George II, who ruled as regent on four occasions.
In a world run by men, Caroline also used her influence to campaign for the Foundling Hospital that would cater for the most vulnerable women and children in 18th-century society. The hospital carried on in this role in the 20th century, with many of the young boys they cared for going on to join the army in the First World War.
Today, the hospital continues in the form of Coram. We support children, just as we did when Queen Caroline used her influence to help establish the Foundling Hospital 275 years ago, helping them to develop their skills and emotional health, finding them adoptive parents and upholding their rights, creating a change that lasts a lifetime.
Useful links
Read about the history of Coram
Find out about our work with children with today