Jacqueline Wilson's best-selling children's story of a spirited little girl in Victorian England, inspired by Coram's historic beginnings as the Foundling Hospital, was first produced for the small screen in 2015.
Set in 1887 London, 12 year old 'Hetty Feather' (Isabel Clifton) and her brother Gideon were abandoned by their mother
and left to fend for themselves at the Foundling Hospital under the care of surly Matron Bottomly.
The series has now returned to CBBC on Tuesdays at 4:30pm, and gives both a dramatic and humorous account of feisty Hetty's childhood, reflecting on the themes of loss and hope, which many who grew up in the Foundling Hospital will have experienced.
"When you don't know who you are, you can be anyone you want to be," says Hetty, who eventually runs away to join the circus and find her birth mother.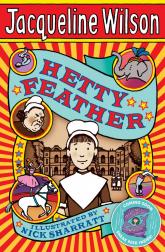 The social conventions of Victorian society were markedly different from those today and children whose parents couldn't look after them were often sent to institutions like the workhouse or were at risk from being exploited by immoral adults. The Foundling Hospital, provided children with a safe place to live where they were educated and supported to find work when they came of age.
Jacqueline Wilson is an avid supporter of Coram who signed our pledge wall: "It's wonderful to know that the children's charity Coram is still helping so many children 275 years after Thomas Coram first started his very special Foundling Hospital.
"It's good that so many people have taken her to their hearts. It's even better that Coram is caring for so many real life vulnerable children nowadays. They can turn their lives around."
Join Jacqueline in signing our pledge wall.
Useful links
Our heritage – the Foundling Hospital
Famous early supporters of Coram