Alfred Enoch, Ben Willbond, John Heffernan and Eliza Butterworth are among the stars taking part in a gala event at London's Criterion Theatre on 27 November, celebrating young people's new creative interpretations of Shakespeare.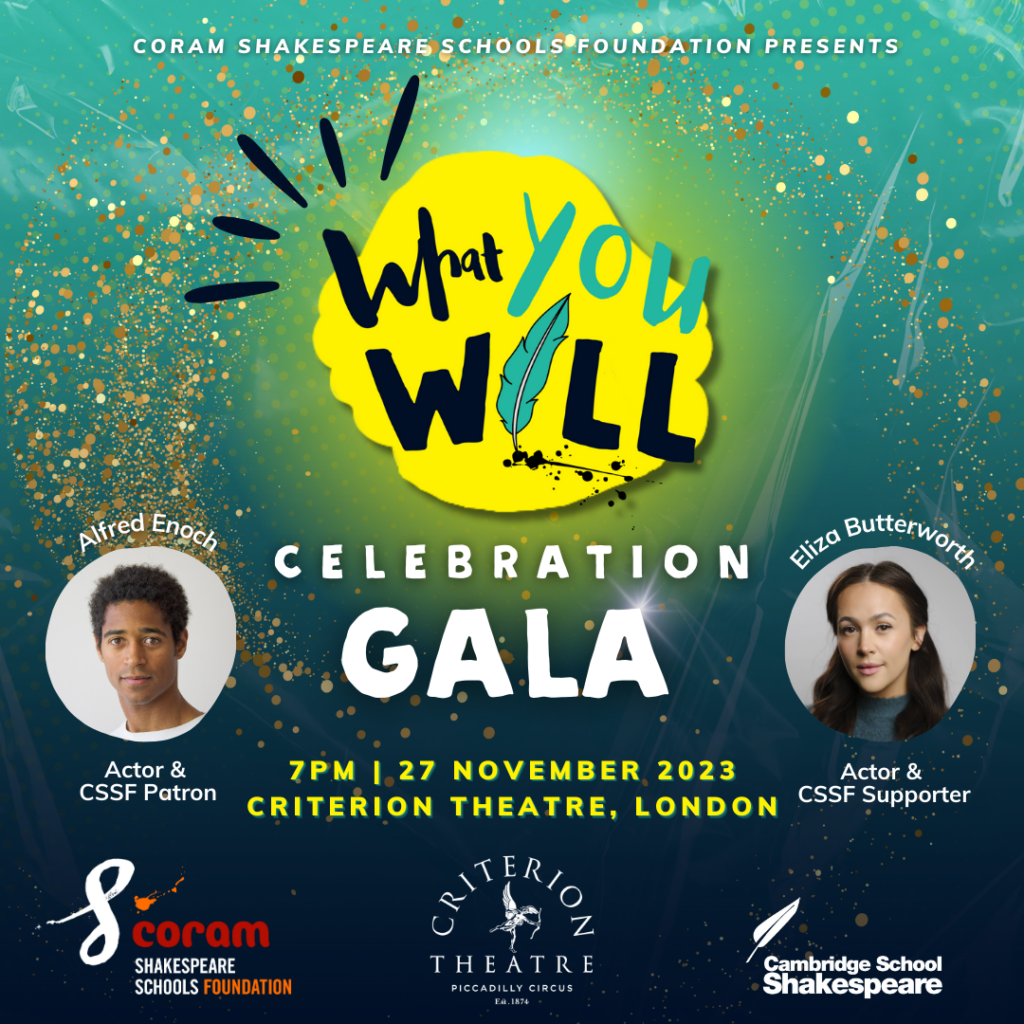 The actors will be taking to the stage alongside the young finalists of What You Will, a national creative competition hosted by the charity Coram Shakespeare Schools Foundation (CSSF), which invited children and young people to take a fresh look at Shakespeare's plays and create a new speech for one of the characters. Audiences will have the opportunity to hear the speeches that Shakespeare 'forgot' to write, performed by the young finalists, alongside readings, speeches, music and dance from special guests, and a comedy narrator representing Shakespeare himself.
What You Will, sponsored by Cambridge University Press, received hundreds of entries from a diverse range of children and young people across the country, including a Ukrainian child who arrived in the country as a refugee last year, young people with special educational needs, and young people from the deaf community. The competition coincides with the 400th anniversary of Shakespeare's First Folio, the first collected edition of his works which may have otherwise been lost.
Mike Tucker, Head of CSSF, said: "We believe that Shakespeare is for everyone, and we've had entries to the What You Will competition from all types of schools from all over the UK and beyond. We've been overwhelmed by the quality and the playfulness of the entries, some of which have been submitted in written form, in videos incorporating music, dance, British Sign Language and even pieces of art. When children and young people get to bring their own voice to Shakespeare, something truly special happens. We've selected 12 finalists, and we can't wait to see those young people take to the stage at the Criterion Theatre in London's West End."
Actor Alfred Enoch, who took part in the judging, said: "Most children encounter Shakespeare in an academic context as something they have to study to pass an exam, not something they get to play with or approach in a way that's fun. One of the most beautiful things about this competition has been to see the freedom with which young people have engaged with Shakespeare and how they've used his work to make something new, something of their own. I was in awe of some of the entries, they were fantastic. CSSF is a charity I'm very proud to support and I can't wait to see the finalists on the night."
Matthew Walker, Publishing Director at Cambridge University Press & Assessment, said: "Creativity comes in many forms and should be accessible to all. It is our mission at Cambridge to facilitate this by contributing to society through the pursuit of education, learning and research. Partnering with CSSF on this competition helps us achieve this by encouraging young people across the UK to bring Shakespeare's work to life in new ways. We're inspired by the high levels of talent and innovation that young people have brought to the competition, while celebrating Shakespeare's stories on this important anniversary."
The event takes place at the Criterion Theatre in Piccadilly Circus at 7pm on Monday 27 November. Tickets for the gala can be booked at the Criterion Theatre box office.