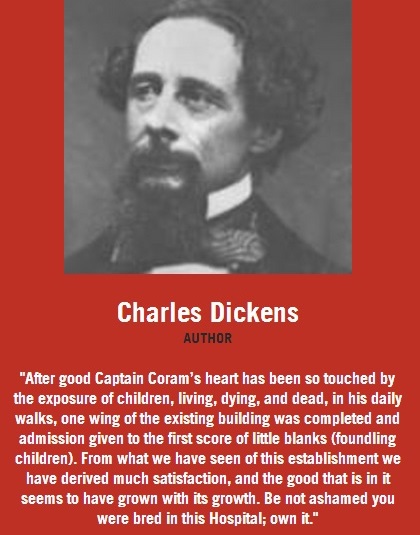 He was so moved by the stories of the children we helped that he raised funds and wrote about the Foundling Hospital in some of his most famous works.
Dickens wrote of the Hospital: "Nineteen years after good Captain Coram's heart has been so touched by the exposure of children, living, dying, and dead, in his daily walks, one wing of the existing building was completed and admission given to the first score of little blanks (foundling children).
"From what we have seen of this establishment (the Foundling Hospital) we have derived much satisfaction, and the good that is in it seems to have grown with its growth.
"You (foundling children) were taken into it very young, quite helpless, forsaken, poor, and deserted. Out of charity you have been fed, clothed, and instructed.
"Be not ashamed you were bred in this Hospital; own it."
To mark the 144th anniversary of his death, Coram has paid tribute to Dickens by adding his words of support for the charity to our own 275th anniversary pledge wall. Please click here to see his pledge, and add your own words of support for children who without the help of the Foundling Hospital or Coram, as we are known today, might be invisible.
Dickens raised awareness of the Foundling Hospital through his work. In 1837 he moved to Doughty Street, near to the Foundling Hospital, where he would go for regular walks through the grounds. There he wrote Oliver Twist, about an orphan boy, or 'foundling', as children with no parents to care for them were known.
The book also contains the character John Brownlow, most likely named after the Hospital Secretary at the time, who had himself grown up in its care. Dickens rented a pew in the Hospital Chapel, a vital source of income for the school, and this may have been how he met Brownlow, who collected the pew rents.
In Little Dorrit, the character Tattycoram grows up in the Foundling Hospital. In the play 'No Thoroughfare', written in 1867, Walter Wilding grows up in the Hospital's care before being reclaimed.
Like Thomas Coram, Dickens was appalled by child poverty, and campaigned against social injustice. He even set up his own charity for destitute women – those who would have no option but to bring their child to the Foundling Hospital to be brought up.
Dickens featured the Foundling Hospital most prominently in an article called 'Received, a blank child' for the journal Household Words in 1853. The poignant title was taken from the entry forms of the children who entered the Foundling Hospital, which included a space for the child's name.
Nearly two centuries on, Coram works to further the vision of a fairer society that drew Charles Dickens to the Foundling Hospital. Read how we support families and create better chances for children here. 
Useful links
Our heritage Early supporters How we do it
Source: Pugh, Gillian, London's Forgotten Children: Thomas Coram and the Foundling Hospital (Stroud: Tempus, 2007)