What if Shakespeare's characters had more to say? What could Romeo tell us about peers who resort to violence? What does Isabella have to say at the end of Measure for Measure? We will soon find out as today Coram Shakespeare Schools Foundation (CSSF) launches What You Will, a new national creative competition inviting children and young people aged 8-25 to take a fresh look at Shakespeare's plays and to create a new speech for one of the characters.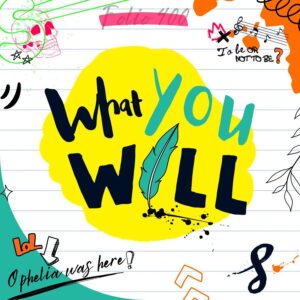 What You Will celebrates the 400th anniversary of Shakespeare's First Folio, the first collected edition of Shakespeare's plays which contains 18 plays never printed before, including Twelfth Night, Macbeth, Julius Caesar and The Tempest, which might never have otherwise survived. The competition, sponsored by the world's oldest publishing house, Cambridge University Press, is open for entries from 20 April to 31 July.
In the competition, children and young people could create a new speech for a major character like Othello, Juliet or Prospero, or a character who speaks less such as the Porter who brings important news in Macbeth. It could even be a character who doesn't speak at all, like the bear who eats Antigonus in The Winter's Tale. This is an opportunity for all those who enter the competition to challenge Shakespeare's stories and characters, create new perspectives and make these characters their own.
'Speech' does not have to mean written, spoken or even word-based – young people can choose how their character communicates and expresses themselves through any medium. This could be with a song, a piece of art, movement, or via visual message. The important thing to consider is when the character will speak and why. CSSF will provide young people, teachers, parents and guardians with the resources, top tips and inspiration to get to know these famous stories and write a new chapter.
Winning entries will be showcased in a gala performance event at the Criterion Theatre in Piccadilly Circus on 27 November, who are venue partners for the competition. Entries will also be collated to create "The Forgotten Folio" – a digital legacy of the speeches that Shakespeare 'forgot' to write.
Alongside the launch of the competition, CSSF is delighted to announce a new partnership with Pauline Quirke Academy of Performing Arts PQA by providing resources, projects, training and opportunities to students, teachers and principals at over 200 academies. The partnership will bring together CSSF's active approach to Shakespeare and PQA's excellence in performing arts tuition for children.
Mike Tucker, Head of CSSF, said: "This anniversary gives Coram Shakespeare Schools Foundation the platform to spotlight and celebrate the astounding creativity young people in this country have to offer. Shakespeare is for everyone. Even though these stories are 400 years old, they resonate just as powerfully today. Running the CSSF Theatre Festival every year, we see first-hand just how creative children and young people's responses to Shakespeare's plays can be. We are excited to witness fresh perspectives and innovative interpretations that will shape the next chapter of these enduring tales for generations to come."
The competition is supported by a host of actors and performers including Dame Harriet Walter, Alfred Enoch, Paterson Joseph, John Heffernan and Darren Harriott who have created their own new Shakespeare speeches as inspiration for the children and young people entering.
Alfred Enoch, Actor and CSSF Patron said: "Shakespeare's work is one of the cornerstones of the English curriculum and yet too few young people encounter his work as more than a near-impenetrable mass of antiquated language which they have to write essays about. It is an understandably daunting task. And yet, the work for which Shakespeare is best known and most celebrated are his plays. Words to be spoken, yes, but more than that – words to be played and played with.  Coram Shakespeare Schools Festival do wonderful work ensuring that young people can discover Shakespeare's plays in a theatrical rather than an academic context. So it is with great enthusiasm that I welcome their latest endeavour!"
Matthew Walker, Publishing Director at Cambridge University Press, said: "Creativity comes in many forms and should be accessible to all. It is our mission at Cambridge University Press to facilitate this by contributing to society through the pursuit of education, learning and research. Partnering with CSSF on this competition helps us achieve this by encouraging young people across the UK to bring Shakespeare's work to life in new ways. We're excited to see the high levels of talent and innovation that young people have whilst celebrating Shakespeare's stories on this important anniversary."
Richard Mulholland, Head of Stage and Screen at PQA said: "PQA is delighted to be partnering with CSSF whose mission to transform the lives of young people is reflected in everything we do at PQA.  Shakespeare is a hugely popular part of PQA's performing arts offering so it is wonderful to team up with CSSF, and have access to their expertise and passion, to inspire our students, principals and teaching staff with Shakespeare's words and stories."
Competition entries can be submitted on the CSSF website until midday on 31 July.