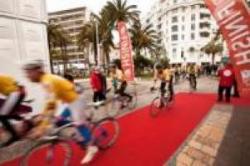 The 1,500km challenge is sponsored by Broadgate Estates.
The aim is to raise more than £200,000 for Coram and four smaller charities.
Carol Homden, Chief Executive of Coram, said: "Thanks to the commitment of everyone involved, we can better the lives of thousands more children. We wish the riders the very best of luck for this event."
Pedal power
Cycling shifts of 12 hours will take the men and women through the scenic countryside, passing through towns including Calais, Dijon, and Aix-en-Provence before finally arriving in Cannes in time for MIPIM, the world's premier exhibition event for the property sector.
First day nerves
Barry Hughes, a rider, from Hok global design, architecture, engineering and planning said:
"I'm really excited and looking forward to a good time. This is my hobby so I haven't had to do too much training."
Fellow rider Evelyn Mullins, who works for Broadgate Estates added:
"I am really nervous as I have never done a group cycle before. I only cycle to work but have been training for a couple of months."
Building on success
This is the second year in a long-term partnership between Coram and Cycle to Cannes.
Money donated to Coram will be used to help change the lives of 10,000 UK children, through two areas of Coram's vital work:
Coram Adoption: finds loving, permanent adoptive families for the UK's most vulnerable children
Coram Life Education: the UK's largest child health education programme helping young people to build self confidence and learn about the dangers of drugs and alcohol.
For more information about Cycle to Cannes contact us at cycleto@coram.org.uk
Useful Links