On 17 October, Coram celebrated 50 years of its adoption services, publishing a new report and holding a celebration event for families hosted by broadcaster James O'Brien.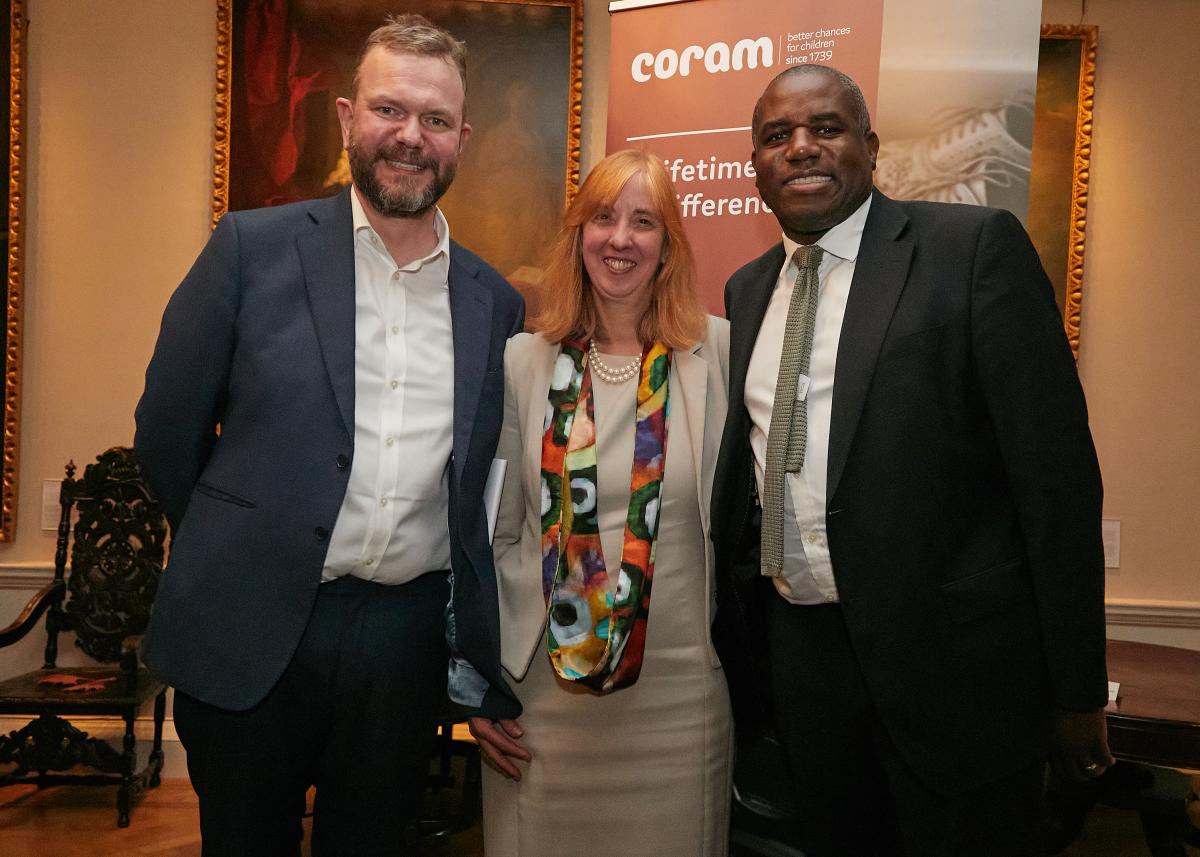 James O'Brien, Dr Carol Homden, CEO of Coram, and David Lammy MP
As National Adoption Week 2022 got underway, Coram celebrated 50 years of its adoption services, publishing a new report 'A Lifetime of Difference' setting out the impact for children and families over the decades. Coram also held a celebration event at the Foundling Museum for families, staff and partners, hosted by broadcaster James O'Brien and with MPs David Lammy and Edward Timpson among the speakers.
Since being registered as an adoption agency in 1972, Coram has been at the forefront of the development of new approaches to enable the most vulnerable children to find loving permanent families. Rated Outstanding by Ofsted, the agency provides lifelong support to its adoptive families. The report highlights how it has pioneered progressive practice in areas including:  
Early permanence 

– Coram has long championed early permanence, an umbrella term for certain types of adoption placements for babies or toddlers. These placements (including concurrent planning and fostering for adoption) enable a 

baby or young child to be matched with foster carers who are approved to adopt them later, if the courts decide they cannot be cared for permanently by their birth family, thereby avoiding delay and giving them stability. 

Coram's concurrent planning project was one of three established in England in the 1990s and its success prompted the government to 

introduce fostering for adoption under the Children and Families Act 2014. Coram's research found that children placed for concurrent planning took 14 months from entry to care to being adopted, whilst the national average was two years and seven months*. 

LGBT+ Adoption 

– 

In 2005, the Adoption and Children Act 2002 was implemented, giving LGBT+ couples the same rights as heterosexual couples to adopt children. However prior to this, Coram had placed children with LGBT+ couples, assessing and approving them together but for the legal process, one of the couple would make the application to the court as a single adopter. The 2002 Act made it possible for LGBT couples approved to adopt to make a joint application to the courts. In 2021-22, 17% of children adopted through Coram were matched with LGBT+ families

.

 

Finding families for black children 

– 

Coram has always understood the importance of finding adoptive parents who can reflect the backgrounds of all those children placed. In order to promote the recruitment of black adopters, the team established a relationship with The New Testament of God Assembly Church in East London which was led by Pastor Io Smith, a dynamic leader part of the Windrush generation. Coram placed a significant number of black children with members of the church and they were welcomed and supported by the wider church community. Recruiting and supporting adopters from diverse families has remained at the forefront of Coram Adoption's work. 
In 2019, Coram became the first voluntary adoption agency to lead a Regional Adoption Agency, in partnership with 9 local authorities across London, as part of the government's strategy to regionalise adoption services to speed up the matching of children with families.  
The report also highlights the continued importance of Coram's work at national as well as regional levels, as children face unprecedented challenges in securing the stable loving home that they need. Children are now waiting longer to be placed, despite the availability of adopters who have been assessed and approved as able to provide loving homes. Official data** shows that the number of children adopted in England has fallen by over 13% in the past two years, 23% in the past four years, and is likely to continue to fall this year.   

Dr Carol Homden, CEO of Coram, said: "As the UK's first children's charity, Coram has a long history of offering care to children who cannot grow up within their birth families. Over the past five decades, Coram's adoption work has been dedicated to putting children first and foremost to ensure they can grow up in safe loving families. We have pursued this aim by working with others across the sector through national programmes, forming progressive partnerships and now leading one of the regional adoption agencies with local authority partners.  

"In the coming decade, we will continue to innovate in practice, in multi-cultural perspectives, co-production with adopted young people, and addressing contact issues in the digital era. With children waiting longer to be adopted, we will continue to champion greater use of early permanence and all available approaches to matching, so that every child who needs it has the chance to thrive in a loving adoptive family."  

Anthony, now aged 21, was adopted by his family through Coram at 20 months. He says: "In our family, there is no hierarchy between the birth kids and the adopted kids, we're all one massive family. I remember feeling really loved and appreciated. Since being adopted, I've been so lucky to develop my music skills. My parents really supported me, taking me to concerts and practice sessions. My parents are amazing. Their goals are realised through helping other people, and I find that really inspiring. I've recently fundraised for Coram as I wanted to give back to an organisation that gave me the life I—and all other children in care—should've had: a life with a loving family that enabled me to fulfil my potential." 
*

Concurrent Planning Study: Interim report, Coram Policy and Research Team 2012