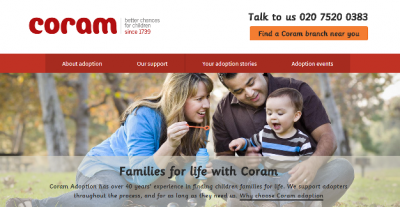 Coram has launched a new dedicated adoption site to which all current and prospective adopters are being directed.
The site, which has gone live ahead of National Adoption Week 2015, is targeted towards people who are interested in adopting with Coram, and those who have already adopted and are looking for support or other information.
It includes streamlined content about the adoption process and adoption support to ensure adopters can find the information they need quickly and easily wherever they are in their adoption journey. It also has a Coram branch finder to help adopters locate the contact details of their nearest Coram office and the ability to sign up to adoption events and updates online.
Information about adoption for professionals and local authorities will remain on the main Coram site, but current and prospective adopters will be directed to the dedicated site.
The Head of Coram's Adoption and Permanent Families Service, Jeanne Kaniuk, said:
"The new site is part of the service we offer to all our adopters. We know from our more than 40 years of working with people who want to adopt that what they really need is clear information about the adoption process and what to expect from adoption.
We also know that once they've adopted they may find they need support at different times as their children grow. The new site will make it much easier for them to find out what sort of help is available to them and how to access it and our new site will help provide that."
Useful links
Visit Coram's new dedicated adoption website