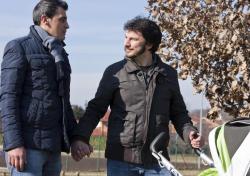 Coram has long worked with single people and couples from a range of different backgrounds who are interested in providing a permanent, loving home for children in care.
Jeanne Kaniuk, Coram's Head of Adoption and Permanent Families' Service said:
"We take a child-centred approach, which means that we're looking for parents who have the kinds of qualities that can make a lasting difference to vulnerable children – regardless of their sexuality.
"Rather than having a blueprint for the kind of family that might be suitable to adopt, we start from the premise that we need committed parents who can understand the emotional baggage that the children are likely to bring with them.
"This is not linked to sexual orientation, but to people's life experience and how they have processed challenges in their own lives."
Adoption myths
A recent British Association for Adoption & Fostering (BAAF) survey found that one in five people questioned thought that lesbian, gay, bisexual or transgender people are unable to adopt.
Coram, the UK's first children's charity, has long been de-bunking myths around adoption through its pioneering work. It has been operating a leading adoption service for over 20 years, with offices in London, the East Midlands and East Anglia.
Maire and Winnie's story
Maire and Winnie adopted two brothers through Coram in 2010. Maire said:
"We had always talked about adoption but I had reservations around the idea of the children having no father figure. It wasn't so much that I felt children have to have traditional families, but we both had really lovely dads and we had slight worries about them missing out.
"Our family and friends were very encouraging and Coram had such a positive reaction to us as a couple. We were invited along to an open day and there were lots of very different people there, which was reassuring.
"It seemed that to be a good adopter you'd need to be the sort of people who can focus on the needs of the child first. It was so exciting that Coram thought we could do this; it was a lovely feeling and Coram gave us advice and support throughout the adoption process.
"I can't imagine us not having children now. It doesn't feel like an adoption at all, it just feels like our family."
Adoption events
Coram Adoption East Midlands is holding a drop-in information event on Friday, 8 March 2013 between 2pm and 5pm for LGBT individuals and couples who would like to find out more about adoption.
For more information contact Coram Adoption East Midlands on 01509 600306 or email gailH2@coram.org.uk
Useful Links
Coram Adoption Contact our Adoption teams