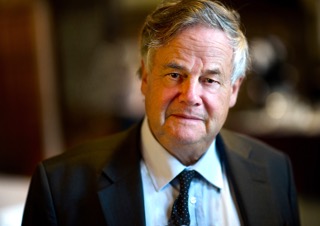 Knighted for his longstanding services to industry, the arts and charity, Sir David is a non-executive director of the Economist, former director of Pearson plc and former Chair and Chief Executive of the Financial Times.
Sir David's involvement in public life and service spans many years. For ten years he was Chair of homelessness charity, Crisis and continues to chair a number of organisations, including Sadler's Wells and Cambridge University Press. He is also an active trustee of several organisations and is a member of the Honorary Council of the Royal National Theatre.
Sir David was officially inaugurated at Coram's Annual Court on 16 July 2015 and commences his four year term on the 23 September 2015. He succeeds Alderman Sir Michael Bear as Coram President.
Dr Carol Homden, CBE said;
"We are absolutely thrilled and honoured to welcome Sir David as our new President. Coram prides itself as being a progressive charity which has responded to the changing needs of children and the external environment since the 18th century. With his extensive experience and knowledge of business, the arts and charity, Sir David is a perfect match for Coram. We very much look forward to working with him."