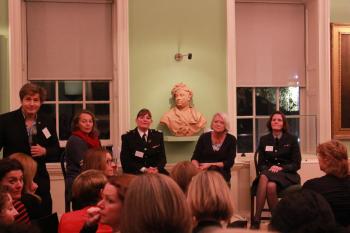 On the 'Women on the front line' panel, were the flagship journalist, BBC Chief News Correspondent, Kate Adie, OBE DL, and Assistant Commissioner in the London Fire Brigade Dany Cotton, who is one of Europe's highest ranking female firefighters.
The panel also included documentary photographer Alison Baskerville, who has worked with women affected by conflict around the world and Group Captain Clare Muir Deputy Head of the Intelligence, Strategy and Policy Department, with the Civil Aviation Authority.
Guests enjoyed a canape and drinks reception at the beautiful Foundling Museum, which tells Coram's story since 1739 as the UK's first dedicated children's charity. Tours of the museum offered an insight into the instrumental role of women in establishing Coram, originally known as the Foundling Hospital.
The 'Women on the front line' discussion
Our host for the evening was author and broadcaster Leo Johnson, who opened the discussion by asking the panel to recall a defining moment for them in their professional roles as women.
Kate Adie, OBE DL, reflected that she didn't consider herself a woman in a man's world, but a professional doing a job. She stressed that women should be ready to grab every chance and opportunity that presents itself, and act from a position of responsibility.
Kate also gave her view that women are at the centre of one of the biggest social revolutions of all time, in their roles as equals in the workplace across the country.
She emphasised how she viewed herself as a shy young woman, who simply stood her ground that women should be treated 'fairly', a theme which resonated with and united the panel and wider audience.
She recalled that she was the only woman in her school year to go to university, as women at this time were not expected to have their own careers. She reflected that she simply found the prospect of becoming a secretary rather boring, so instead pushed ahead as a journalist.
There were times when she had to challenge attitudes towards her based on her gender, such as being asked to 'take the minutes' in meetings early on in her career.
"I don't do that. I've been trained as a technician, not a typist," was her response. – Kate Adie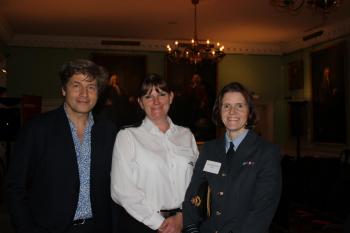 Dany Cotton, Assistant Commissioner in the London Fire Brigade, was one of 30 women out of 6,000 firefighters when she began her career in 1988. She, similarly to Kate, didn't feel she approached her career 'as a woman', more that she viewed the role as an exciting, challenging profession offering the opportunity to directly help people.
She recalled the reaction she received as the only female fire fighter in her team; three of her colleagues had put in for transfers when they learned of her arrival, half the team would not speak to her, and the other half tried to 'help her' by "doing everything for me, things which to do my job properly, I actually needed to do for myself".
Reflecting on these challenges, she matter-of-factly said that her response to being underestimated or ruled out, was simply to question it. "If I was ever told, women can't do that or you can't do that, I keep on asking 'Why?' and eventually it would emerge that there is in fact, no reason why."
Group Captain Clare Muir, agreed that being underestimated put "fire in my belly". Clare's began her career as a leading figure in the Civil Aviation Authority, at RAF Shawbury where she trained in Air Traffic Control. She completed multiple tours before being promoted to Squadron Leader in 2005. From here, she rose to Wing Commander, before being posted to the Ministry of Defence.
Clare recalled a comment made to her husband, just before one of her tours was about to begin. "A remark was made that while I was obviously very good at my job, was this really the right thing for me to be doing and would I manage? His confident response – "You clearly don't know my wife."
As the discussion turned to the impact of motherhood on women's careers, Clare, told how the day after her six-month maternity leave ended, she was to begin command of a major operation getting troops back from Afghanistan. Aware that the work would be relentless, she came to an agreement with her husband that he would take nine months off work, to be with the children. "It's a partnership," she reflected. "I remember my husband phoning to tell me that the boiler had broken at home, at which time my focus was getting 600 troops safely back in blizzard conditions. My response was along the lines of 'you're just going to have to manage'. It was 4pm on Christmas Eve that the last troop landed in the UK and I could return home. I picked him up a bobble hat from the petrol station and got back to my family."
Documentary photographer Alison Baskerville, who served for 12 years in the Royal Air Force, added to this discussion that while motherhood and family life were important considerations, it was also true that many women were not mothers or wives and that this is a valid choice too.
She shared the panel's view that she hadn't joined the military 'as a woman' but as an individual excited by its challenges and opportunities. In fact, she reflected that for her, the career she chose gave her an identity, but not the stereotypical notion that this should amount to her somehow 'becoming masculine.'
Reflecting on the women she has met in her career in Bosnia, Palestine, Afghanistan and Iraq, she spoke of their incredible strength of character and the unity between groups of women, but reminded that many women still did not have access to basic rights, such as simply having their own passport.
She was also keen that every woman in the room continue the discussions they had enjoyed with men, because only by involving them and working together can 'fairness' actually be realised.
Continuing our work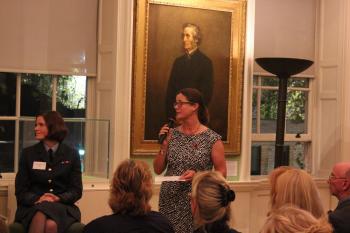 Helen Pickstock of Coutts, who is Chair of The Coram Women's Chapter, closed the event by thanking the panel and encouraging guests to find out more about the Women's Chapter, which is working towards supporting and fundraising for Coram.
Last year alone Coram helped over one million children and young people across the UK through adoption, family and legal support. The charity continues to recognise and respond to the plight of children who are otherwise 'invisible' to society.
The Inspiring Women event series is open to both women and men, but focuses on the roles and views of women. To join us at future events please contact InspiringWomen@coram.org.uk
Women and the Foundling Hospital
It was originally a petition led by 21 pioneering women in 1739 which helped secure the creation of the Foundling Hospital, as Coram was originally known. Without it, Thomas Coram, the charity's founder, might not have been granted the Royal Charter from King George II, which officially established the charity.
Through the Foundling Hospital's creation, tens of thousands of abandoned children's lives were saved. The role that these women played stands out as a crucially important aspect in Coram's history and a critical momnet in the history of social care in the UK.
Coram today remains committed to its founding purposes of breaking the cycle of destitution for vulnerable children.
Useful links
How Queen Caroline supported Coram, on BBC Woman's Hour

Take a look at the difference we continue to make, 275 years after Queen Caroline's support