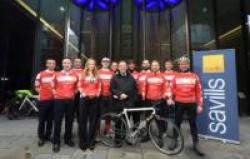 Following the final rider briefing at Coram, 80 riders will set off on Thursday, 7 March from London's City Hall, arriving at the Palais des Festivals in Cannes six days later on Tuesday,12 March.
They aim to raise more than £200,000 for Coram and four smaller charities.
Better chances for children
Carol Homden, Chief Executive of Coram, said:
"The funds raised will help us to find and prepare adoptive parents who can provide safe, loving and permanent homes for children who need it most, as well as give school children skills to make healthier choices in life.
Thanks to the commitment of everyone involved, we can better the lives of thousands more children. We wish the riders the very best of luck for this event."
Building on success
Last year's ride supported two of Coram's key services, adoption and Coram Life Education. Money raised helped Coram to transform more children's lives meaning that:
10 children living in care will have the chance of a better future through Coram finding and preparing new adoptive parents, who can go on to provide the safe, loving and permanent home these children desperately need
30 adopted children and their families will receive a lifetime of support from Coram, so that we can be there for them whenever they need our help
Up to 10,000 children will be helped to develop the skills they need to make healthier life choices through Coram Life Education, the UK's leading drug and education school programme
For more information about Cycle to Cannes contact us on cycleto@coram.org.uk

Useful Links