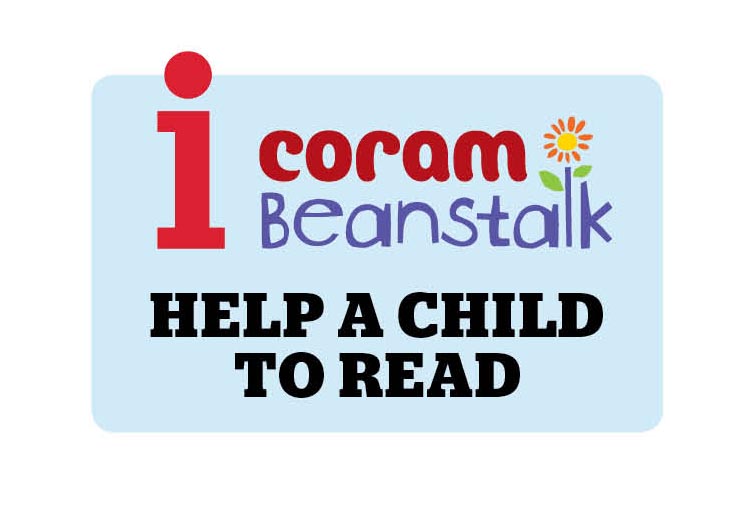 In 2017-18, 156,000 children across England left primary school not having reached the expected standard in reading*. Not being able to read well, or being able to enjoy books, can have a devastating effect on a child's future, holding them back at every stage of their life.
That's why the i has launched this important campaign to encourage readers to volunteer their time and help Coram Beanstalk reach more children than ever before – helping them to read, grow and thrive.
Apply to be a volunteer with Coram Beanstalk and help a child to read.
What Coram Beanstalk do
In the last academic year, 3,700 Coram Beanstalk volunteers supported 13,400 children in early years settings and primary schools. They helped engage children in books and stories, bringing the fun and magic back into reading for children whose reading confidence and enjoyment may have been lost for a variety of different reasons.
Coram Beanstalk volunteers have the time on a regular basis to work with these children one-to-one, reading together, exploring books specific to an individual child's interests, using books to prompt discussion on a range of topics and encouraging them to consider their own thoughts and ideas. Becoming a reader opens a world of possibility and opportunity for children. No child should be left behind because they can't read well.
This year, Coram Beanstalk are aiming to support 15,000 children through the help of 4,000 reading helpers, delivered through a range of programmes, growing to 20,000 children in 2020-21.
By joining forces with i News, Coram Beanstalk have a unique opportunity to reach this target, by urging as many readers who are able, to become reading helpers and support children in their local areas to read well and confidently.
How to volunteer
You can find out more about what is involved in becoming a reading helper on Coram Beanstalk's volunteering pages where, once you feel this is the right role for you, you can also complete an online application form.
There are two programmes Coram Beanstalk need volunteers for; their Reading 321 programme for children age 5-11 and their early years Story Starters programme for children age 3-5.
As a priority, Coram Beanstalk have an urgent need for reading helpers in specific areas of the country, and so applications from potential volunteers located in these areas are particularly encouraged:
South East – London-wide, Kent-wide, Medway
Midlands – Birmingham, Wolverhampton, Stoke-On-Trent (Cheshire East, Shropshire and Staffordshire)
East of England – Northampton, Ipswich, Bedford, Milton Keynes
North West – Liverpool, Manchester, Wirral, Southport
Yorkshire – Bradford, Leeds, Doncaster
North East – Middlesbrough, Teesside, Tyneside, Newcastle
South West – Swindon, Gloucester, Somerset
Don't have time to volunteer?
Becoming a reading helper requires your time and commitment, but it's not always possible for everyone who wants to help.
If you don't have the time to volunteer but would like to help rewrite the story for children across the UK who struggle with reading, please consider making a donation or supporting Coram Beanstalk's fundraising efforts. This helps us to continue delivering Coram Beanstalk's vital reading programmes to more children in areas of greatest need.
To find out about the different ways you can support Coram Beanstalk, continue to 'Other ways to support'.
*According to national statistics from the Department of Education